A north-east roadside camera has been revealed as the most active in Scotland, catching close to four times as many speeders as the next in the rankings.
New figures have shown that, over the first five months of the year, the average speed cameras on the A90 between Stonehaven and Dundee snared 4,417 motorists – the equivalent of 29 per day.
Over the same period, 1,133 were caught by the average speed cameras on the A9 between Inverness and Dunblane.
Another camera on the A90, this time near Charleston, also featured within the top 10.
The fines issued from the top 10 most active cameras nearly topped £1 million.
---
>> Keep up to date with the latest news with The P&J newsletter
---
The new stats have raised questions about what more can be done to deter drivers from breaking the law and make the region's roads safer.
Rebecca Ashton, head of driver behaviour at campaign group IAM RoadSmart, has called for more officers to patrol the roads.
She said: "A lack of officers does not help when we are trying to deter people from speeding, if the police had more capacity and resources they would be able to have the visual impact they want but with budget cuts it can be difficult to manage.
"Speed cameras are not the complete answer to a speeding problem.
"People need to understand the dangers of speeding, making education an important aspect of deterring motorists to speed, encouraging them to understand the dangers of speeding and the positive aspects of staying within the limit will also help."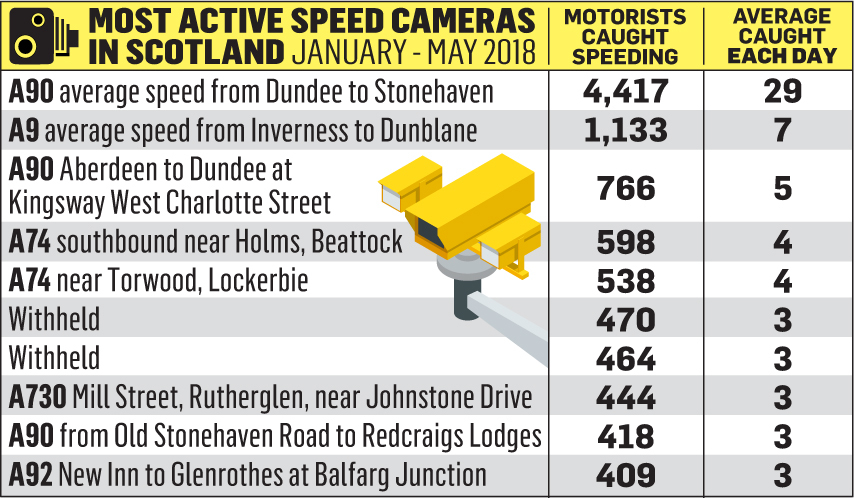 Statistics from GoCompare
Arron Duncan, manager of the North Safety Camera Unit, said: "While it remains disappointing that a significant number of motorists have failed to adhere to the speed limits in place for their respective vehicles, it is important to highlight that the figures quoted represent a very small minority of the road users overall on the routes.
"Speed limit compliance levels in excess of 99% are generally achieved.
"Those detected speeding to date are either not paying sufficient attention to the task of driving or have clearly made a conscious decision not to comply."
Road Policing Sergeant Stuart Lawrence said: "It goes with saying that travelling at high speeds can have catastrophic consequences and is totally unacceptable.
"Driving at such speeds significantly reduces your ability to react to unexpected changes in road conditions and puts other road users at serious risk."