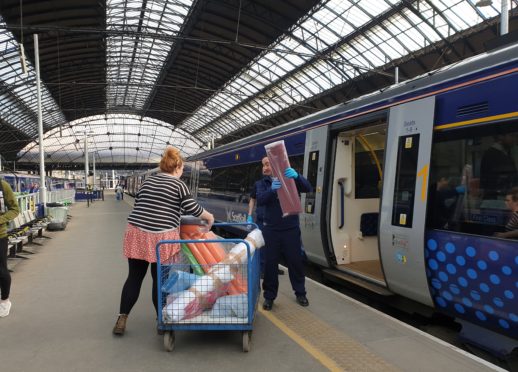 Hundreds of crafty volunteers are poised to begin work on stitching thousands of medical scrubs after a huge shipment of supplies was transported north by train.
A team of 300 volunteer machinists from the NHS Scotland – For The Love of Scrubs network in Inverness, Caithness and Elgin have now taken possession of essential material which will be used to fashion the sanitary garments for medics.
The effort has been helped by ScotRail, which saved the group expensive courier fees by bringing 30 bales of fabric from Glasgow Queen Street station to Inverness for free.
The fabric will be used to create 7,000 sets of scrubs.
Holly Baxter-Weir, organiser at NHS Scotland – For The Love of Scrubs, said: "We're really thankful for ScotRail's help in distributing this fabric, as well as other supplies we need to allow us to continue to support the NHS.
"This delivery has saved us enough money in courier fees to make another 43 sets of scrubs, which is really just incredible.
"It makes such a difference and allows our fund to stretch further."
David Simpson, ScotRail's operations director, said: "By transporting the scrubs on ScotRail services free of charge, we hope that it will save on transport costs and allow the volunteers to spend more money on materials to make more of this vital equipment."
Since the groups inception, more than £41,000 has been raised in public donations to buy fabric and sewing materials for the volunteers.