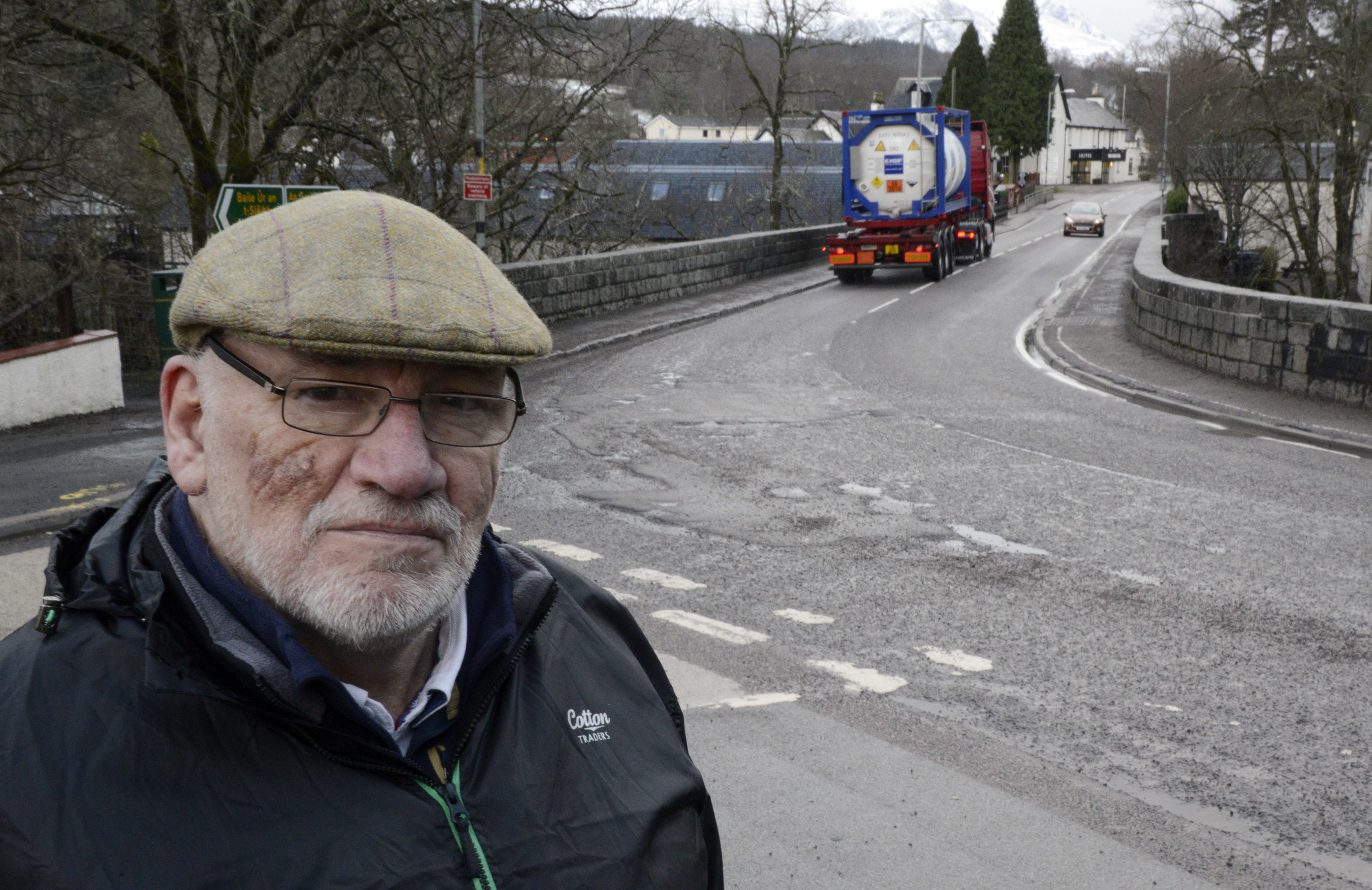 A Highland community is angry that resurfacing work that caused serious disruption to traffic on the A82 Inverness to Glasgow road started crumbling within weeks and needs to be replaced.
The work at the junction of the A82 and the A86 Kingussie road at Spean Bridge in Lochaber was carried out in October.
However, within three weeks, the surface started to break up and a large pothole appeared in the carriageway.
The hole was patched, but the road surface continued to deteriorate and locals believe it should be resurfaced again as soon as possible.
Spean Bridge, Roy Bridge and Achnacarry Community Council chairman John Fotheringham has now written to the Transport Minister and the chief executive of trunk road contractors Bear Scotland demanding action.
Mr Fotheringham said: "It is obvious that the job wasn't done properly and it needs to be done again.
"We were promised a 'pristine' road through Spean Bridge and they said they would do it in January, but nothing has happened."
He added that loose stones from the crumbling road surface area were being thrown into the gullies at the side of the road and blocking drains.
In his letter to Transport Minister Derek Mackay MSP, Mr Fotheringham wrote: "My community council has lost confidence in both the government agency, Transport Scotland, and the trunk road maintenance firm, Bear Scotland, to adequately resolve issues on the A82 and A86 as they pass through our community."
And he asked the minister to direct officials to "ensure that they keep their promise of a pristine road surface throughout the village of Spean Bridge on the A82 without further delay".
A Transport Scotland spokeswoman said the Transport Minister would respond to any correspondence received from Mr Fotheringham.
She said: "Transport Scotland monitors the work of our roads operating companies and is in discussion with Bear Scotland, as well as consulting with a representative of the local community, about how best to resolve the issues at Spean Bridge."
And a spokeswoman for Bear Scotland said the agency appreciated the concerns of the local community and was keen to solve this problem as soon as possible.
She said: "There were some issues with the initial road surface laid and the contractor has agreed to rectify these at their own cost.
"We are currently discussing the timing of the work so it can be carried out in reasonable weather conditions."