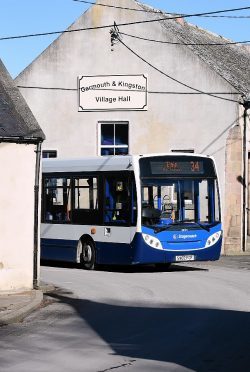 Moray villagers who face being stranded next month when a "lifeline" bus service is axed have called on the council to come to their aid.
Roughly 930 residents in Garmouth and Kingston live at least six miles away from the nearest grocery store, and will soon be unable to reach it by bus.
Today, councillors will examine a report into the difficulties which are faced by people based in these communities.
Anita Milne, who lives between Garmouth and Lhanbryde at Urquhart, has arranged a public meeting for those affected by the loss of the service.
Mrs Milne wants Moray Council to investigate whether it could deploy its community bus service to ferry rural residents with no other means of transport.
She said: "There is a lot of concern about this, but we believe the council's Dial M for Moray service will possibly be able to help a lot of individuals who currently use this bus.
"We really want the council to look into that, as people who don't or can't drive will have some real problems."
Members of Moray Council's economic development and infrastructure services committee will meet at the authority's Elgin headquarters this morning to discuss the idea.
Stagecoach decided to pull the plug on the 34 service last month, and it is scheduled to cease from Monday, April 18.
The firm said the route was so unpopular that it was left with "no option" but to axe it.
For villagers who were already dismayed by the recent closure of their only remaining grocery, the announcement came as a bitter blow.
Fochabers Lhanbryde councillor Douglas Ross described the service as a lifeline for rural residents without their own means of transport.
He said: "The 34 service is off-peak, but it was one that many people relied on to attend medical appointments or do their shopping.
"This will be a loss felt quite strongly by a number of people in the community."
The Milne's Area Forum group is inviting residents from the Garmouth, Kingston and Urquahrt area to attend a public meeting next Tuesday on March 15.
The summit will take place in Urquhart Parish Church on the village's Main Street, from 7pm.
Anyone who requires transport to attend the meeting is asked to contact Mrs Milne on 01343 842289 or 01343 843025.