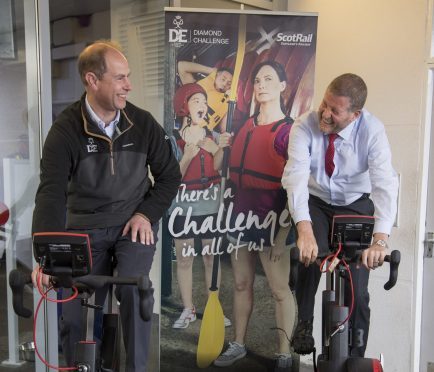 The Earl of Wessex was raring to go when he got on a bike to celebrate the Diamond Anniversary of The Duke of Edinburgh's Award (DofE) at Fort William railway station yesterday (Thursday).
Prince Edward and ScotRail Alliance managing director Phil Verster climbed onto static bikes on the Lochaber station's platform and pedalled the first mile of a 348-mile cycle challenge being undertaken by ScotRail's apprentices as part of their Diamond Challenge.
At the start, the pair were told it was not a race, but the prince joked that they would have to see about that.
He then beat Mr Verster by completing his mile first and his success was marked by a loud blast on a whistle and an enthusiastic round of applause.
Afterwards, the ScotRail managing director, who is a marathon runner, said: "It was good fun cycling with the prince.
"He has a fantastic sense of humour.
"It was great that he was able to come to Fort William and talk to our people and the youngsters.
"There was a real buzz around the station. It's a day that none of us will ever forget."
He added that he was immensely proud of the company's apprentices who have worked hard towards attaining a DofE Gold Award.
The award is a key component of ScotRail's modern apprenticeship programme with around 40 apprentices attaining the accolade since the programme began in 2011.
Mr Verster said: "It's a fantastic opportunity for them to gain invaluable skills and real life experience which will stay with them forever."
The prince chatted with some of the apprentices taking part in the cycle challenge asking them what the apprenticeship was like and what they had done to complete the volunteering requirement of the award.
He also spoke to pupils from Lochaber High School, who are taking part in the DofE scheme.
Katrin Murray, 16, of Tomonie, said: "It was amazing to meet him.
"I like the royals so it was a big day for me."
DofE chief executive Peter Westgarth said: "As we celebrate 60 years of The Duke of Edinburgh's Award, it's clear that the charity is an integral part of life in Scotland, which has played an invaluable role in the development of so many young people in the community."