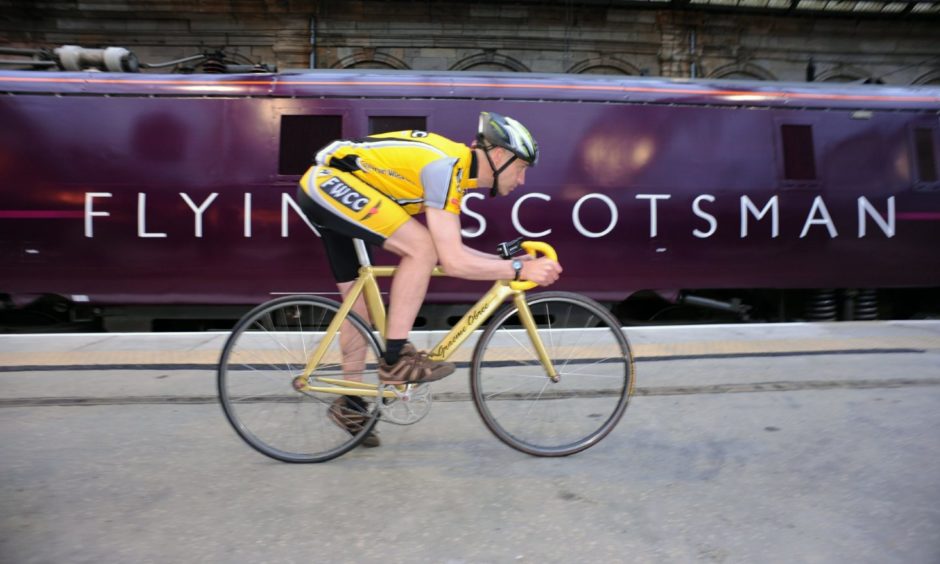 There was nothing orthodox about my first meeting with Graeme Obree back in 1993. At a time when most sports stars were wary of revealing a sensitive side or any intellectual pretensions, this cycling phenomenon was a breath of fresh air.
It's quarter of a century since the man who crackled with banter and controversial opinions and orchestrated some of the most gloriously improbable accomplishments in Scottish sport, stormed to a world title in South America in 1995, two years after he burst into the international spotlight with a stunning story which was subsequently turned into a film, The Flying Scotsman, with Jonny Lee Miller in the lead role.
Inner demons
At that stage, as we chatted and he talked 15 to the dozen, there was no hint of the fellow's inner demons which were eventually laid bare when Obree tried to commit suicide on several occasions and revealed he had bipolar disorder.
This discovery was all the more shocking, because it was difficult to understate the sheer entertainment value he provided, while constructing his own bikes, feasting on marmalade sandwiches and shattering milestones even as he enraged the cycling panjandrums.
But in 1993, I knew none of this and such considerations seemed irrelevant as the unlikeliest of heroes emerged into centre stage. Week after week, at time trials and pursuit competitions across the country, the name Graeme Obree figured prominently in the results.
It was in March that I decided to track down the man behind the multitude of small-type victories in the Sport in Brief columns and duly encountered that rarest of creatures; a fully fleshed-out personality without a trace of arrogance or egocentricity, a natural born enthusiast who honestly believed he could emulate Jimmy Cagney and become king of the world.
During that first meeting, on a dank, wintery Ayr afternoon, Obree was dynamism personified. He had, he declared with relish, built a bike – nicknamed Old Faithful – by ingeniously deploying £70 of scrap metal and a few parts from his wife's washing machine.
"I'm going for the world hour record and I think I can achieve that ambition, because I have been paying my dues quietly, steadily, since the mid-1980s and I feel ready to make a bigger splash," he told me with a mercurial glint in his eye.
His target was the Hamar velodrome in Norway in July, where he was aiming to surpass the existing mark established by the Italian maestro, Francesco Moser. And although it sounded implausible, he proved as good as his word, his coruscating 51.596km ride at the second attempt instantly propelling him to international stardom.
Suddenly, he was no longer touring Cumnock and Auchinleck; instead, he was amassing a fan base from Athens to Anchorage. Crouched low, with his chest on the handlebars, his elbows tucked underneath and his knees nearly reaching his chin, his style was more reminiscent of an Alpine skier than a pedalling extraordinaire – but he was no Eddie Edwards.
He was a Scottish sportsman to be proud of; and with his capacity for bringing raucous revelry to a normally monosyllabic milieu, he was manna to the media. Where his English rival Chris Boardman was all PR snooze-speak, Obree was blessed with charisma to burn.
"I'll never forget the look on the Norwegian crowd's faces when they realised that I had beaten Moser's record," said Obree, speaking down a crackly phone line a few hours after that remarkable achievement.
"There was puzzlement, incredulity, amazement – it was all there, as if I was some daft Scottish loon who had ridden out of the mist of Brigadoon and headed into the history books.
"My first run was on the Friday and I wasn't feeling 100%, but I was determined to push myself to the limit, because I knew I had the required talent and resilience and, let's be honest, it would have been a very long way to travel for nothing.
"Through the night, I was up every two hours drinking water and doing stretching exercises just to make sure I didn't seize up. And, once I was 15 minutes into Saturday's ride, I was flying. I was in great shape and feeling so good that I knew the prize was in my lap. It was incredibly exhilarating to have the power to make that happen."
Rank outsider
At that stage, his future prosperity looked guaranteed. Obree returned to Norway in August and, despite being considered a rank outsider in the 4,000m pursuit final, tore up the form book with another blistering exhibition and became the first Briton to collect the title in 35 years.
Quite correctly, he was voted BBC Sportscene's Personality of the Year in 1993 and duly delivered a spontaneous thank-you speech which amply emphasised his wit and intelligence.
Yet sadly, the smiles, waves and affectionate gestures were merely part of the equation.
As our later meetings demonstrated, Obree's life had been a wafer-thin balancing act.
Indeed, he suffered a series of personal and professional crises in the aftermath of that halcyon summer. On the track, he fell foul of the the sport's governing body, the International Cycling Union, who banned him from the 1994 World Championships, speciously deeming his unique riding position to be "unaesthetic".
More critically, his brother, Gordon, had died in a car accident in October 1994, as if to illustrate how quickly the rug can be pulled from under your feet.
Hence Obree's blank-eyed perplexity when I met him at his home. He knew he had been victimised by the authorities and this was in the days before Britain produced a conveyor belt of Olympic titans and Tour de France champions in the mould of Chris Hoy, Victoria Pendleton, Jason Queally, Bradley Wiggins, Chris Froome, Jason Kenny and Laura Trott.
He lamented: "I haven't been treated fairly and that's pretty hard to accept. But I suppose I appeared in a puff of smoke, like some genie from a lamp, and that's simply not allowed.
"If I had been a Continental competitor and won a couple of the European classic races first, that would have been okay. But I didn't. Instead, I won the world crown with my first shot and the brass tacks of this business are that you can't do that sort of thing."
His voice trailed off, as he shook his head at the injustice of it all. It was left to the omnipresent Anne Obree to restore a sense of equilibrium, recollecting that, despite her husband's devastation at Gordon's death, he had exhibited trademark courage and disproved his critics by sweeping to an emotional victory – with a more orthodox riding stance – at the World Championship 4,000m pursuit event in Colombia in September 1995.
She was aware by then that her husband suffered from mental illness – that he had tried to kill himself when he was 19 and that he was prone to bouts of acute depression – but whenever there were fires to extinguish or troubles to assuage, she would be there for him.
Yet the malady could strike in any circumstances.
While participating at the Olympic Games in Atlanta in 1996, he had journeyed to the United States as the favourite, but finished only 11th after the toxic combination of a viral infection and a terrible start conspired to dash his prospects of a medal.
But, as he told me, even while he was surrounded by thousands of other athletes, he was enveloped in his own private dark place.
"I was so depressed that nothing mattered – nothing – which most people probably can't understand," said Obree with the candour of a man who has felt the steady pulse of life slip out of his own body.
"Sometimes, I will hear other people say: 'I'm a bit depressed today'.
"But what they really mean is that they're cheesed off, a wee bit exasperated and wish they had stayed in bed this morning. For me, though, depression is the all-pervading sense that I am entirely worthless, that those nearest and dearest to me would be better off if I was dead and that there is no possibility of light at the end of the tunnel.
"At the Olympics, you might think I had the world in my grasp and I should have been grateful. But I would rather have been anywhere else and, eventually, I climbed out onto the window ledge of my fourth-floor hotel room. I just didn't want to be there any more.
"Luckily, a team-mate came in and asked what the hell I was doing. I told him I was just getting some air, stepped back inside and the incident was resolved. But I wasn't focused on the competition, but wondering what I could do to escape the attention and the limelight.
"All the things I won weren't out of a passion for winning; they were out of a terrible fear and obsession with losing. I kept worrying that if I stopped winning, I would be regarded as a failure, a flop, and though that gave me motivation at the beginning of my career, it soon became this incredible millstone."
Thankful release
By the next time I met Obree in the next millennium – in 2002 – just a few months had passed since he had pedalled eight miles to the stable where Anne kept her horse, Broxy, and tried to hang himself with two heavy-duty plastic zip ties.
But for the chance arrival of a 15-year-old girl at the scene, he would have succeeded.
These were the bare facts, stripped down to the nub. But they revealed nothing of the torment which Obree endured as a teenager when he was bullied mercilessly by his classmates because his father was a police officer. He passed through the traumatic years from infancy to adolescence believing that he truly was "a piece of filth".
No wonder the opportunity of cycling away into the distance presented such a thankful release.
It's hardly surprising that I regard this complex individual as one of the most significant figures of his generation. He shattered stereotypes even as he challenged perceptions and there was something glorious about the manner in which he climbed cycling's pinnacles.
I asked him what sounds like a simple question in 2002. How are you? He paused and searched for a vestige of sharpness from the shadows before replying: "The thing is that I am in transition from being at death's door to slowly rebuilding my life. The reality is that sometimes I suffer an emotional overload and it comes out of nowhere.
"I'll be lying in my bed in the middle of the night and then suddenly feel I have to be somewhere else and that I'm wasting my talent. It is scary. I mean, when I eventually woke up in the hospital ward and saw Anne striking my hair, I couldn't remember a thing. It was a blank. Just hours and hours of total nothingness.
"I was so weak because I had been on the brink of death, but I realised immediately that I had to change, otherwise these kind of situations would keep recurring until…".
Blight of doping
There was no need to continue, but thankfully Obree has found a way through the woods, though not without some painful consequences. In 2011, he confirmed that he was gay and was finally able to embrace his sexuality. And he has spoken out against the blight of doping in cycling which he refused to embrace after being asked to take drugs by a leading team.
He refused and his contract was ripped up. There has been nothing straightforward in Obree's existence, and his problems bubbled beneath the surface long before sports administrators accepted they had to shoulder a responsibility for the mental health of their participants.
Ultimately, he has blazed a singular trail and inspired the likes of Hoy and the other Scots who have illuminated the action at velodromes throughout the world.
That should be a fitting legacy for any human being and I used to think it might help Obree if he actually appreciated how treasured he is in his homeland.
But, there again, depression does not operate on those terms.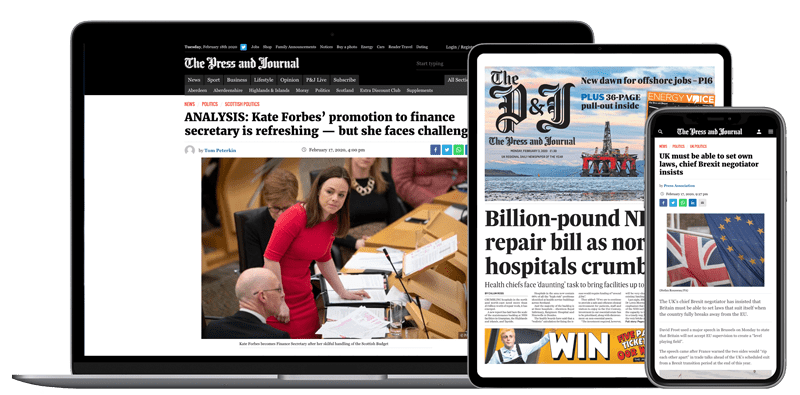 Help support quality local journalism … become a digital subscriber to The Press and Journal
For as little as £5.99 a month you can access all of our content, including Premium articles.
Subscribe