I'm hanging out with my god-daughter, an eight-year-old bundle of cuteness and curls with a good dollop of sass.
As soon as I arrived, she dragged me upstairs, so I could see her new and beloved Barbie Dreamhouse. I have to admit it's impressive: there's a slide, disco room and neon pink wheelchair lift.
She shows me the people who live there: two baby Barbies and a white mermaid Barbie with rainbow hair to match her iridescent tail. "This is the mummy," my god-daughter tells me. She stands another Barbie next to the first, a black-skinned doll with a full afro and red hot pants, "And this is the other mummy."
She looks at me meaningfully for a moment. I wonder if she remembers that, for a long time, I had a girlfriend not a husband. I smile and say: "Oh, that's nice. They look good together", and we start playing in earnest.
It's fair to say that Barbies, and how our kids interact with them, have come a long way since I supplemented my sparse one-Barbie collection with empty tins of beer, the Tennent's "Lager Lovelies" standing in for a whole host of characters. Or since I insisted on trying to totter around our council flat on tippy-toes because I thought there was something wrong with my feet, and indeed the rest of my body, as it was so different from the "perfection" of Barbie.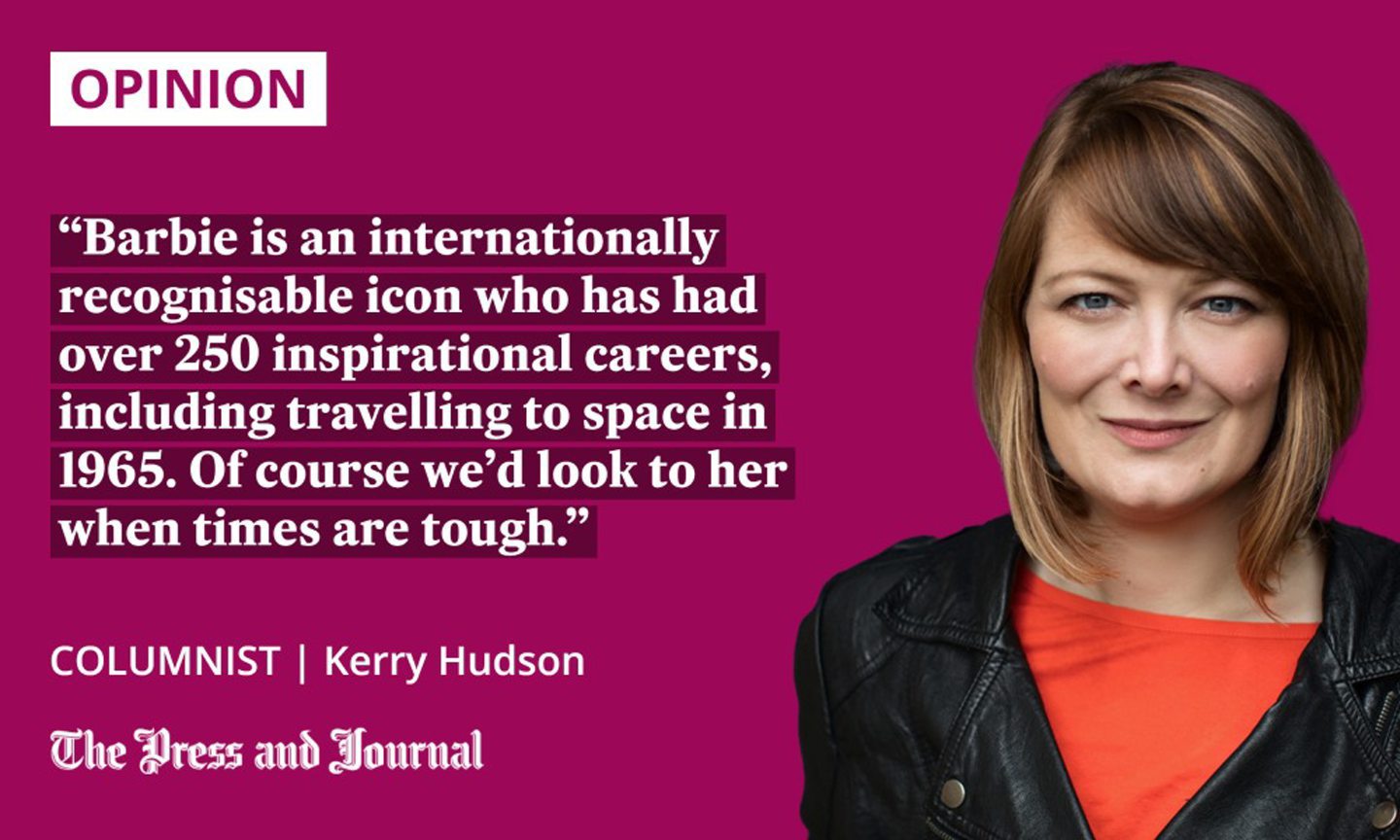 For this reason alone, I should dislike Barbie. Because to emulate her, as most girls do, was to wish for an impossible hip-to-waist ratio and nippleless breasts that pointed outwards like two rocket launchers ready to go. Because, according to Barbie's world, my ideal Ken should be white, lantern-jawed and a man's man.
It goes without saying that I should detest the new Barbie movie. But I simply cannot. Never has a movie slogan been more true: "It's Barbie's world and we're just living in it". I can't remember the last time I saw this level of mass hysteria across such a vast spectrum of people, men and women, old and young – except when Taylor Swift tour dates were announced.
Barbie as you've never seen her before (I hope)
The new Barbie film, starring a whole galaxy of Hollywood stars, is likely to be a taste of something very different indeed, given that it is written by Greta Gerwig and Noah Baumbach.
While the movie does promise more than the same tired, objectifying tropes, I'll admit there was a part of me that was disappointed when I saw Margot Robbie had been chosen as the lead.
Although she is a trade unionist and an extremely good actress – see I, Tonya – she is also, of course, the most western, white, conventional example of beauty. I have worried about what that would do to a generation of young girls who would aspire to look like Margot Robbie and find themselves, as we all must when compared to Margot, lacking, and therefore constantly critical of their perfectly imperfect features.
But the disappointment faded as clips of outlandish costumes and incredible sets were drip-dropped across social media like pink soda over the last six months.
We need nostalgia, comfort and fun
Quite simply, we need this film. We are dragging ourselves through a cost-of-living crisis which is making us fear that we'll have to start chopping up our furniture to heat our homes, there's a new report of freak weather every day, and many of us are still recovering from the trauma of a pandemic which we never really got to process because, as soon as it was deemed "over", it was very much back to business.
Now brands are releasing Barbie meals and limited edition Barbie make-up ranges. You can even rent the actual Barbie Dreamhouse on Airbnb.
There is something about the Barbie movie that has caught the zeitgeist. Perhaps because we just really need some camp, fun, choreographed dance routines, and our screens to look like they have been bedazzled by an overexcited eight-year-old with a glitter gun.
Barbie's real life DreamHouse is now on Airbnb pic.twitter.com/ZJv986H3WX

— Mashable (@mashable) July 10, 2023
And Barbie, after all, connects us across the generational spectrum. She's been going for over 64 years and is an internationally recognisable icon who has had over 250 inspirational careers, including travelling to space in 1965. Of course we'd look to her when times are tough.
The Barbie movie promises to be the perfect mix of comforting nostalgia with a twist of self-aware modernity and that's a sugary, sweet cocktail you can sign me up for. I want unadulterated fun, pink drinks, pink popcorn, and to watch Margot Robbie and Ryan Gosling rollerblade in neon coord outfits.
I hope the film will prove to have some surprises that challenge the implicit ideals and norms of beauty – but, if it doesn't, just this once, I'm giving it a pass.
For now, I'm a Barbie girl in a Barbie world. Just for this summer, let's call plastic fantastic and enjoy a big, pink slice of sparkly escapism. We've earned it, after all.
---
Kerry Hudson is an Aberdeen-born, award-winning writer of novels, memoirs and screenplays