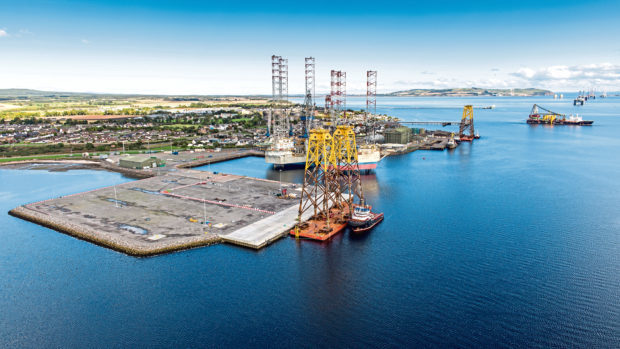 October 15 is the last day for any new submissions to the Scottish Parliament's petitions committee in respect of PE1637/H.
As readers of this column may recall, this is about the long-running dispute between the Cromarty Firth Port Authority (CFPA) – also known as the Port of Cromarty Firth – and the local campaign group Cromarty Rising. Many assumed this had all been settled, but MSPs are still considering it and any wider significance.
It began in December 2015, with the port authority seeking permission to transfer 8,640,000 tonnes of crude oil annually between tankers at anchor just outside the mouth of the Cromarty Firth. A distinguished marine biologist warned: "If you were trying to find a place in Europe that posed the maximum risk to a protected dolphin population, this would probably be it."
Campaigners argued any oil spill would be environmentally catastrophic. It would also damage a local economy, increasingly supported by green tourism.
But the episode highlighted other significant issues, not least the dysfunctionality of the current devolution arrangements.
The Maritime and Coastguard Agency (MCA), which answers to the UK Department for Transport(DfT), would decide whether to grant a licence to conduct the oil transfers. But under European law it was the Scottish Government, which that was responsible for ensuring the protection of the marine environment under European law.
Another issue highlighted was that, unlike in England, trust ports in Scotland are no longer subject to any direct democratic scrutiny, unlike those in England. counterparts south of the border. It was also confirmed that if local "stakeholders" were concerned about the activities of a trust port, they would ultimately have to take legal action. go to court to seek redress. Scottish ministers have no power to intervene, again unlike the position in England and Wales. This is despite Scottish trust port policy being wholly devolved.
As it was, the MCA was unimpressed by the oil transfer application and in 2017 directed CFPA to submit another one after greater consultation. The port said it would, but last December announced it was shelving the plan.
There is documentary evidence that Scottish Government civil servants were initially been supportive of the oil transfers plan. But their ministers were eventually persuaded by the campaigners, and behind the scenes they robustly "discouraged" a second MCA application.  But the economic importance of the CFPA's activities was recognised by ministers and underlined by the commitment of £7.75m through Highlands and Islands Enterprise towards a new £30m CFPA quayside at Invergordon. This was announced in November, just before the oil transfers plan was abandoned.
But that is not the end of the story. Cromarty Rising's petition remains live. It seeks legislation to prevent ship-to-ship transfers of crude oil in environmentally sensitive locations; and measures to enhance the accountability of all trust ports to their stakeholders.
Responsibility for trust ports rests with the Cabinet Secretary for Transport, Infrastructure and Connectivity Michael Matheson. His minister Paul Wheelhouse (Energy, Connectivity and the Islands) has now responded to the committee. On the issue of accountability, he doesn't see a problem: "Scottish ministers expect trust ports to operate with reference to the Modern Trust Ports for Scotland: Guidance for Good Governance and our experience is that trust ports across Scotland do this."
This begs several questions, not least how do ministers know the trust ports are being run according to guidelines? HMRC issues guidance on how to fill in our tax forms, but doesn't take our word that we have done it correctly.
How do ministers know that the trust port boards have not appointed family, friends, business associates or their local darts team members as directors?
They used to know, because under the 1973 act which set up the trust ports, a government minister had to approve the appointment of directors.
But after devolution a legal approach by the CFPA persuaded the then Labour/Lib Dem Scottish Executive that they should be allowed to appoint their own directors without ministerial scrutiny. Other trust ports, including Aberdeen, followed suit.
It appears that at this time, ministers also gave up their right or indeed duty to intervene in a trust port's activities, if necessary. MSPs never even got an opportunity to debate the changes.
But south of the border the secretary of state for transport still appoints the chairs of the five largest trust ports in England and Wales – Dover, Harwich Haven, Milford Haven, the Port of London Authority and the Port of Tyne – and some non-executive directors.
Crucially, if not satisfied with a trust port's response to a complaint, stakeholders can appeal to the Department for Transport, which still has the power to intervene.
This column has questioned before how it can be right that a body created by a UK act of Parliament to manage a Scottish waterway created by millennia of geological activity is no longer subject to similar democratic accountability. The changes were not made on the present Scottish Government's watch, but that of their political opponents.
So surely it would be worth ministers, who normally pride themselves in the comparative transparency of government north of the border, asking the same question. At very least members of the rural economy and connectivity committee should do so.
---
David Ross is a veteran Highland journalist and author of an acclaimed book about his three-decades of reporting on the region