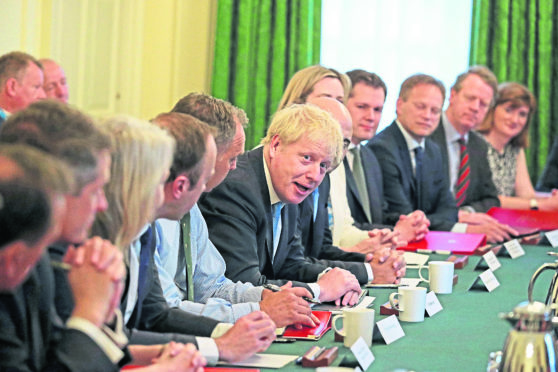 Struan Metcalfe, MP for Aberdeenshire North (for now)
The general election campaign has kicked off this week and it's been a doozy!
I think there've been more MPs announce that they're not standing for re-election than voted for the Letwin amendment!
And there are some big beasts who won't be gracing the hallowed halls of Westminster come December 13.
Nicky "Captain" Morgan, Rory "Rod" Stewart and Amber Rudders are but three of the players who have announced they are to cash in their parliamentary chips.
Well, at least until Brexit blows over. You mark my words, soon as it's done they'll be back quicker than old Fatty Blenkinsop returning for a second bowl of apple crumble and custard at the Gordonstoun canteen.
And poor Boris, the first 24 hours of the PM's campaign were a bit of a shockeroonie. Rees-Mogg went and said something ghastly about Grenfell, which took the wind out of Boris's not inconsiderable sails.
And then his big campaign launch rally event thingy was overshadowed by the news that Jezza Corbyn's deputy (the artist formerly known as "Big") Tom Watson was standing down in order to spend less time with his leader!
And all this in the week when Education Secretary Gavin "The Gavster" Williamson announced he wanted electoral officials to reconsider using schools as polling stations and use somewhere else instead.
Problem is, where else Gav? Thanks to our highly successful austerity programme, all the libraries, community centres and town halls have been closed. LOL!
Gav is worried that the election could play havoc with school nativity plays. Some are arguing that it would be unfair on the kids if they had to cancel their nativities. Double LOL!!
It's not the kids I feel sorry for, it's the parents. They were all looking forward to leaving work at 11am to go see their tykes in action and then spend the rest of the day "working from home", which is the official term for taking a laptop to a Wetherspoons.
All that said, given the current political climate, I too, my friends, am considering my position.
And so, to my constituents, I say this, and let me be absolutely clear on this point – it has been the greatest honour of my life to spend the last two years drinking Krug with Rossco Thomson in the Strangers Bar. It is the greatest job I have ever had. It is the only job I have ever had.
But now the current Mrs Metcalfe would like to see a bit more of me. Which is just as well, because after dining out on MPs' expenses since 2017, there is now considerably more of old Struan for Mrs M to see.
Ron Cluny, official council spokesman
You may have read about your ever-watchful city council's latest plan to deal with the most insidious menace in modern Aberdeen.
Oh yes, they're a constant issue, swaggering about the town like they own the place, confounding good citizens with their thoughtless behaviour and always leaving a terrible mess in their wake.
But enough about the planning committee, we need to talk about seagulls.
The problem with these terrible scavengers is ever worsening, but I think we've got it cracked this time – we are fighting fire with fire by bringing in an even more vicious flying creature to deal with them.
Some of you may have seen Saffron the Harris hawk, along with her handler, on her recent tour of Marischal Square.
Once she's been taken around for a while and met a wide selection of locals, she will be adequately trained to differentiate between the seagulls she needs to eviscerate and the wee kiddies that we're hoping she doesn't end up carrying off.
Even the seagulls don't go that far – they're generally happy with a Gregg's pasty.
However, a Harris hawk's diet consists of birds, lizards, large insects and small mammals.
So, we're considering putting up a notice in Marischal Square barring small dogs and I'm not going to be letting Barney wear his furry hat this winter.
Of course, thanks to the Scottish Government's continued stinginess, we haven't got a huge amount left in the animal husbandry (birds of prey) budget this year – not after that typo at the family planning clinic resulted in an accidental order for a great load of condors, so we can't keep her on the payroll indefinitely.
We're hoping that after a week or two of familiarising herself with all of the nooks and crannies and quiet places of Marischal Square, Saffron will make a home for herself in there, and stay around on a voluntary basis. I can see her perched up on the pouncing leopard, or nesting in the chimney stacks of Provost Skene's House.
She'll be quite the hit at the Christmas village – folk can turn up, sample the high-quality fairground attractions, and enjoy a warming mulled wine while watching a large bird of prey tear apart some seagulls.
Most festive, and one in the eye for the moaning minnies who say there's never anything exciting happening in Aberdeen.