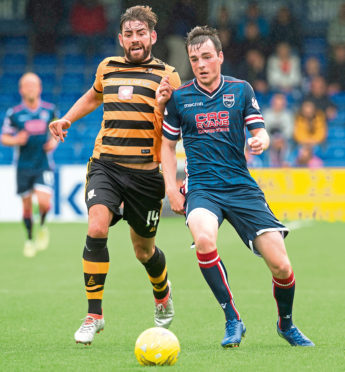 Ross County may have suffered relegation from the Premiership, however defender Sean Kelly believes the squad assembled for the Championship campaign is stronger than that of last season.
The Staggies endured a miserable campaign last year, winning just six league games between three different management teams – Jim McIntyre, Owen Coyle and current co-managers Stuart Kettlewell and Steven Ferguson – which resulted in the end of the Dingwall club's six-year top-flight stay.
Although County are now facing reality of life in the second-tier, Kelly believes the squad has benefited from being freshened up by Kettlewell and Ferguson over the summer.
Kelly said: "With the signings we made in the summer, compared to last season I feel the squad is actually stronger than last year.
"We have got a lot more than one way of playing, so I think we can be a danger to any team we come up against.
"A lot of us have been involved at clubs before where there has been that hangover after relegation, and before you know it you are stuck in the Championship.
"It's a hard league to get back out of if you don't start well. Plenty teams have gone down before, then once the first few games have started they are chasing their tail trying to get back up.
"We want to try and get off to at least a few wins at the start, and hopefully that can just keep momentum going."
Kelly has returned to action after spending the latter half of last term on the sidelines following hip surgery, which limited him to 18 appearances in his debut campaign after joining from St Mirren last summer.
The 24-year-old added: "I'm just delighted to be back out there helping the boys, because there's nothing worse than last year when I was just looking on.
"You just don't feel a part of it, it's not that you feel like you're letting people down, but there's nothing you can do to influence it.
"Even if things do go wrong you want to feel like you can hold some sort of responsibility for it, whereas last year I was just looking on in hope more than anything else.
"I just had to take whatever result came and it wasn't a nice feeling.
"When you can't play football it just gets to you a wee bit, you're coming in every day with a goal to come back, but realistically I knew after the operation there wasn't really a chance for me to come back before the end of the season."
County host managerless Falkirk today, aiming to recover from suffering their first league defeat of the campaign in last week's 2-1 reverse to Morton, and Kelly added: "We have got to look to bounce back, there is no other way really. Last week was a disappointing result and the Hibs game before that was as well, considering the way we played.
"It's back-to-back defeats, but it doesn't feel like that with the way we have played. There is still plenty confidence in the group, and we're going out to try and win the game."