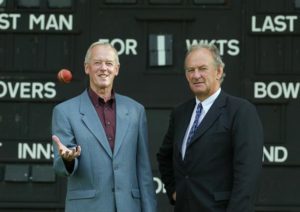 It's amazing the craic that reverberates around a cricket club when summer arrives.
I was at Aberdeenshire's Mannofield ground last week and started chatting to an elderly fellow with a lilting Irish accent who was watching the action outside.
Soon enough, it emerged he had been among the crowd at Sion Mills in his homeland during one of the most extraordinary days in the history of the game when Ireland skittled out the West Indies for just 25.
Even at this juncture, it sounds implausible. Yes, the Caribbean maestros had rested some of their leading luminaries, including the talismanic Garry Sobers.
But they were still packed with star performers, as you might expect of a team on the verge of becoming the greatest in the world throughout the 1970s.
In these days, there was no Associate structure, no tradition of countries such as the Irish, Scots or Dutch claiming scalps or jousting with giants with any true aspirations of victory.
Yet, as my new friend David Anderson told me: "We always thought our boys could bother anybody if the conditions were in our favour. And they definitely were that morning. It poured with rain the night before and the wicket was very green.
"Nowadays, any team would have asked the opposition to bat first on a  surface like that, but there were thousands of fans in the ground and most of them wanted to see the West Indies bat.
"It was just the way things were done. So they batted and they made a horrible mess of it."
In the intervening 49 years, the Irish have grown accustomed to causing seismic ripples and have defeated the West Indies in a World Cup by scoring over 300.
On Friday, in Dublin, they will make history by joining the ICC's Test circuit when they meet Pakistan at Malahide in Dublin.
Yet that 1969 collective were all amateurs, men who had to combine work with willowy commitments.
The home attack was led by left-armer Alec O'Riordan and the team's captain Douglas Goodwin. There were soon in their pomp and revelling in unprecedented deeds of derring-do.
Mind you, the West Indians didn't exactly help their cause. Joey Carew immediately played a horrible shot, and Steve Camacho was equally indisciplined, as they attempted some T20-style hoicks. Neither overstayed his welcome and Butcher walked to the crease with the score at one for 2.
As Anderson told me: "We never thought it would turn out the way it did, but you couldn't say they looked ready to fight. Some of thought Butcher and his partner [Maurice Foster] would get their heads down and graft for a bit, but he [Foster] ran himself out, and it just got worse for them.
"Butcher went next, although he god a bloody good ball and he didn't throw it away. O'Riordan didn't look like a top-class bowler, but he knew where to put the ball and he loved conditions like that."
At six for 4, the Windies didn't. Clive Lloyd, a towering colossus of the sport, a man who subsequently hoisted the World Cup and reigned over the ICC's superpowers, was next to go, the victim of another injudicious shot, and half the side were out for half a dozen.
Soon enough, their plight worsened. Clyde Walcott, one of the fabled Three Ws, with Everton Weekes and Frank Worrell, had emerged from retirement to delight the crowds, but instead scratched and scraped around for a painful six before being put out of his misery by O'Riordan.
And, even as the spectators looked on in disbelief, another three wickets were lost as the West Indies succumbed to 12 for 9.
"Their last man [Grayson Shillingford] hit the first boundary of the innings, but everything was a bit surreal by that stage, and the [BBC] TV cameramen knew they had something historic on their hands," recalled Anderson.
"He [Shillingford] made the top score [of nine not out], but the other lad [Philbert Blair] was bowled by Goodwin and it was all over. 25 all out in 25 overs [and three balls]! Well, none of us could credit it.
"But we knew we had just seem something that would never be repeated."
O'Riordan's figures were 13-8-18-4. Goodwin's were even more impressive – 12.3-8-6-5. And the Irish knocked off the runs for the loss of just one wicket.
As my confrere concluded: "You have to give the West Indians some praise: they stayed and played on for the rest of the day when they must have just wanted to head to the bar. It was fantastic, one of the greatest days of my life."
The Irish now have the opportunity to achieve new headlines this weekend.