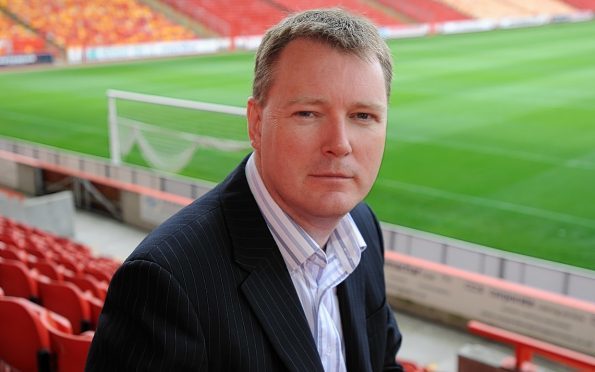 Aberdeen chief executive Duncan Fraser was hugely frustrated after the Dons' Premiership match against Motherwell was abandoned due to floodlight failure after only seven minutes and 17 seconds of play last night.
Just six minutes had elapsed when the floodlights above three of the stadium's four stands at Pittodrie failed.
Both sets of players were sent back to the dressing-room with light eventually restored after a 20-minute break.
But when play resumed for a second time the lights failed again after only one minute and 17 seconds of play leaving referee Alan Muir with no option but to call the game off.
The Pittodrie Stadium was closed on December 2 due to a power cut and Fraser said the issue was related to last night's abandonment and confirmed work will be carried out this week to ensure there is no repeat.
He said: "A couple of Fridays ago our transformer failed. We have sourced a new one that will be fitted and tested on Wednesday.
"In the meantime we had two generators that were more than capable of running the stadium and floodlighting. They have done so successfully over the last 11 days, but unfortunately the generator that was running the floodlights tripped.
"The engineers tried to reset it but when it tripped after a couple of minutes there was no guarantee it wouldn't continue to be an issue.
"From a spectator and player safety perspective the decision was taken to abandon the game.
"There was no other option at that stage. The referee was understanding of the situation, as was Alan Burrows, the chief operating officer at Motherwell.
"We'll make sure everyone who had a ticket will have one for the rearranged game and Motherwell are fully compensated for their expenses.
"I'm sure between the clubs we'll make sure they are able to come to the next game."
Last night's floodlight failure will strengthen the case for some Aberdeen supporters of the need to move to the proposed new stadium at Kingsford on the outskirts of the city.
Fraser added: "Inevitably with an old stadium there are issues, but the transformer passed all the tests and it's never been an issue before.
"We brought in top quality generators but when one trips there's only so much we can do.
"We bring these generators in for European games and there's never been any problems."