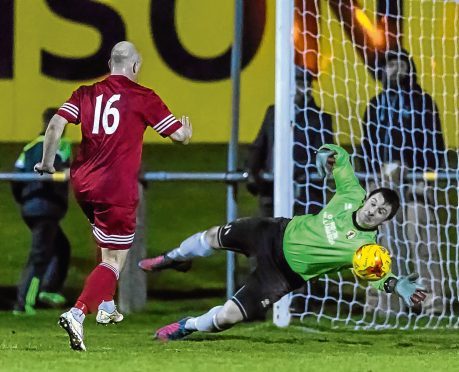 Forres Mechanics goalkeeper Stuart Knight is hoping to achieve his 100th shut-out for the Can-Cans when they take on Fraserburgh at Bellslea Park this weekend.
In-form Forres are going for 10 victories in a row on Saturday and Knight, who joined the Mosset Park club from Deveronvale 11 years ago, is hoping to reach the milestone by keeping another clean sheet.
The 30-year-old said: "It would be quite an achievement if we were to make it 10 wins in a row and I kept my 100th clean sheet against Fraserburgh at Bellslea.
Fraserburgh are flying just now and enjoying a great season.
"Hopefully with their Scottish Cup tie against Rangers having been rearranged for next midweek, some of their players may take their eye off the ball.
"We know what it can be like from our own experience of facing Rangers in the Scottish Cup in 2012.
"Fraserburgh have a lot of players at the right age who have been together for years. They know each other's games inside-out."
The Can-Cans keeper added: "I know their manager Mark Cowie quite well from my time at Deveronvale. I think he can become a great manager."
The former Elgin City stopper believes forward Lee Fraser has been pivotal to his side's recent success.
He added: "Lee has scored back-to-back hat-tricks.
"He is a real handful so it won't be an easy afternoon for the Broch defence.
"We are playing with a lot of confidence at the moment sowe go there with nothing to fear.
"They beat us 2-1 in the first round of the Scottish Cup with a last minute goal.
"Had we won that day, it may have been us that was getting ready to face Rangers."