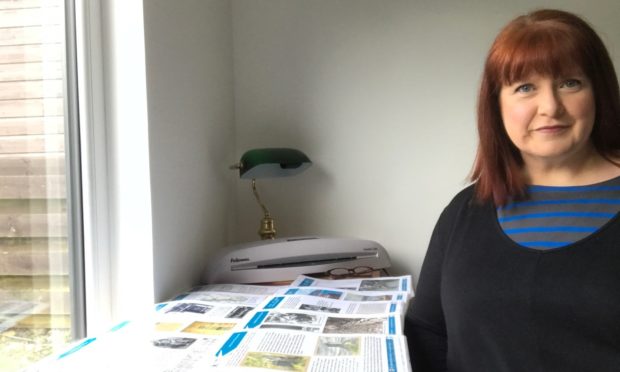 The Highland's archive centres are tackling the challenges presented by coronavirus by sending out materials to prompt reminiscence and chat in care homes.
The HighLife Highland centres in Inverness, Skye and Lochalsh, Lochaber and Caithness have sent out sheets with storyboards depicting times gone by or interesting snippets of history to twenty of the region's 50 care homes so far.
The archive centres are closed and staff are continuing their work from home despite reduced access to the vast collections.
Highland Archive Centre senior archivist Fiona MacLeod said with care homes closed to visits from family and friends, and residents' usual routines disrupted, the centres had looked to see what they could do to help.
She said: "By sending out the storyboards we wanted to spark memories and reminiscences.
"We were also mindful of the staff and the need to help them cope in the current situation."
The material selected relates in large to the 40s, 50s and 60s.
One sheet includes photographs of the ferries at Kyle and Kessock, together with herring gutting and packing in Stornoway and peat cutting on Skye.
Another sheet features the tale of the 'Ross-shire Wanderer', Farquhar Maclennan of Strathconon, a well known character around the Beauly Firth in the 19th century.
Ms MacLeod said: "I've had some feedback from one of the homes and I was told those two storyboards were of particular interest to the residents and resulted in a lot of reminiscing, which is really good to hear.
"Befrienders Highland has picked up on what we're doing and want to share the storyboards with people self-isolating at home and their carers, who might be finding it difficult to cope now the usual lunch clubs and external activities have stopped."
Ms MacLeod also put out an appeal for people across the Highlands to keep diaries during this time to go into the Highland Archive.
She said: "Some people have already started, including children and key workers.
"They're writing or drawing, describing their feelings and how the crisis is impacting on themselves and their families.
"People are saying they're finding it cathartic, especially as some have more time on their hands.
"The diaries will be deposited in the archive at the end of the crisis and will capture what the Highlands was like at this time."
Meanwhile Highland Archive Centre's community engagement officer Lorna Steele is delivering live 'Learn with Lorna' Facebook sessions to share the archive's resources with children.
Letters and Postcards is the theme next Thursday, between 11 and 11.30am.