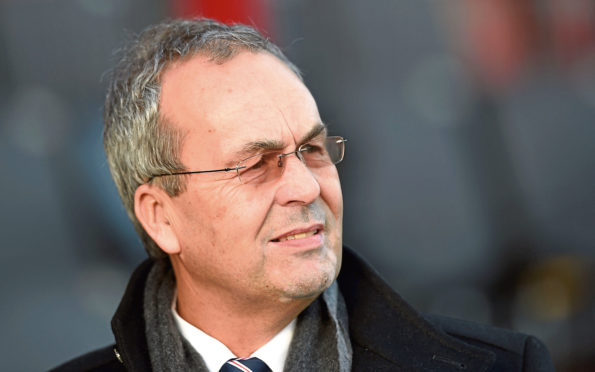 Ross County chairman Roy MacGregor hopes the Highland and Moray clubs can spearhead the return of crowds to Scottish football.
County are hoping to have between 750 and 1,000 supporters at Victoria Park for next Friday's Premiership visit of Livingston, in line with the Scottish government's new five-tier system of coronavirus restrictions, which comes into effect on Monday.
The Highland region is expected to be confirmed as being in tier one today, which would allow for stadiums to partially reopen to a restricted number of supporters from next week.
That is likely to mean a return of home crowds at County, Caley Thistle and Elgin City, whose Moray location is also covered by tier one restrictions.
The Staggies already staged a test event with 300 fans at a home match against Celtic in September, and MacGregor feels the Dingwall club are ready to host a larger number of season ticket holders.
MacGregor said: "We have asked to get 750 to 1,000 fans back in for a week on Friday.
"We have already done the trial at 300, so we want more.
"It went well, there was no hassle. We monitored it well.
"We just want to be able to manage it at a bigger number before we ask for more.
"It will just be season ticket holders to begin with. Track and trace would otherwise be difficult.
"The way we ran it last time was we phoned the season ticket holders who picked up their pass for the game with ID.
"We've got to be really careful the right person is coming in, as a season ticket is transferrable.
"We have to be sure the season ticket holder is who the card says it is, so we have tracked and traced them in case there is an issue.
"We are very lucky here, it's not so great in other parts of Scotland, but we don't have as much prevalence.
"Maybe we will get the opportunity to lead the rest of Scottish football in trying to get fans back into the grounds."
MacGregor feels the prospect of returning to matches will come as a huge boost to the morale of supporters, who have only been able to watch games through online streaming so far this season.
MacGregor added: "We are all looking for a wee bit of hope these days – just any light at all.
"People are starved of it, they are going home at night and having to watch television on dark nights.
"We did promise our season ticket holders we would make the effort to ensure their season ticket was not a virtual one.
"The virtual was a backup, and we have only been able to operate that once to a small portion of the audience."
County launched the Staggies Army membership scheme prior to putting season tickets on sale, offering fans a number of loyalty options.
County have confirmed £864 of discount has been applied to merchandise sales, while 1500 metres of Harris Tweed was used to manufacture the scarves issued as part of the package.
MacGregor feels the scheme will have an important role to play alongside the return of fans to games, adding: "It has been a real help. Sometimes you will get a push when people join, but we still have people joining, which is quite remarkable.
"We have done a Harris tweed scarf, and we have a commemorative strip with names of everybody in the Staggies Army, which is coming out prior to Christmas.
"We are going to try and do a board outside the ground with names of everyone who has contributed to the Staggies Army.
"It's really important that when the club needed them, they stepped forward.
"We are going to develop that, and as soon as we can get events we are going to make them around that membership."