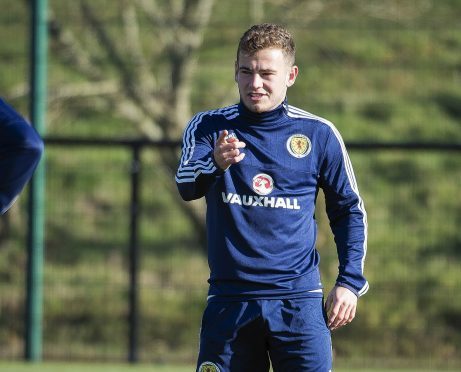 Bournemouth midfielder Ryan Fraser says his first call-up to the Scotland squad felt like further vindication that he made the right decision to leave Aberdeen.
Fraser had made only 23 appearances for the Dons when he departed for the Cherries – then playing in England's third tier – in January 2013 for a mere £400,000.
Four years on and that looks an incredible piece of business by the English Premier League side with Bournemouth manager Eddie Howe recently valuing the 23-year-old at £8million.
The midfielder is expected to make his first appearance for Scotland in tonight's friendly with Canada to cap a memorable season in which he has become a first-team regular at the Dean Court side.
Fraser was pilloried by the Aberdeen supporters for choosing to swap starring in Scotland's top flight for playing in the English League One but it proved to be a shrewd decision.
He said: "I felt like I made the right choice two weeks into the move.
"I got hammered for it and my family got hammered for it. I got tweets and messages, which were quite abusive, but I didn't really react to it.
"I just do my talking on the pitch. If some people still think I've made the wrong decision, fair enough. Everyone's got their opinion and they're entitled to it.
"People were asking my parents 'why has he done that? It's a stupid decision'.
"It was nothing to do with my mum and dad but they were affected by it.
"I was quite young and hadn't really played much for Aberdeen. I had played a lot of youth games with them but I didn't expect to get abused like I did. That's football isn't it?
"It was hard to deal with and made worse by the fact I went down and got injured straight away.
"It was difficult but you make so many sacrifices for football, it was just another one to be made."
Fraser is enjoying a superb campaign for Bournemouth and has become a regular starter since scoring and setting up two goals in the club's 4-3 victory against Liverpool in December.
The midfielder says working with a sports psychologist has helped him go from the fringes of the squad to being a first-team regular.
He said: "I got the chance against Liverpool and I took it. I have just stepped on from there, really.
"I didn't really want to be known as an impact player because in the last three years, except in my time on loan at Ipswich, I have been coming on in most games and getting 25 minutes and trying to get a goal or an assist to help the team.
"But now I am starting I feel like I am growing as a player. The main change has been my confidence. I need a manager who gives me confidence and if I have confidence I am a different player, really.
"I was quite negative. I went to see a psychiatrist to try to help me stop being so negative and that's helped me out.
"Eddie Howe (Bournemouth manager) arranged it.
"We have a team one already but he obviously saw that I was quite negative in the way I play and the way I thought and he got someone to help me out with that. It seems to be working.
"Initially, I was a bit scared as they are judging you every moment but he helped me out a lot. He is in with the club full time now and helping out with other players."
Fraser feels more positive and productive after his work with the sports psychologist – and the midfielder hopes his new outlook will help if he gets a chance against Canada this evening and on Sunday in the team's crucial World Cup qualifier against Slovenia.
He said: "I came on against Spurs in the 85th minute and had a one on one with Danny Rose.
"It was 0-0, the lads had just been working hard. I didn't take him on. I passed it back.
"And I was asked: 'Why did you do that?'
"I didn't want to lose the ball and they run in and score and then that's all the lads' hard work gone.
"He asked: 'But what if you took him on and crossed the ball and we scored?'
"I hadn't really thought of that. I had gone to the negative output, the safer output. That was the type of stuff holding me back.
"I was still positive in the way I played, it was just getting to the next level. That is what was stopping me. I might have done something good but there was no end product.
"Now there's often an end product, and there's an assist or a goal, something good happening."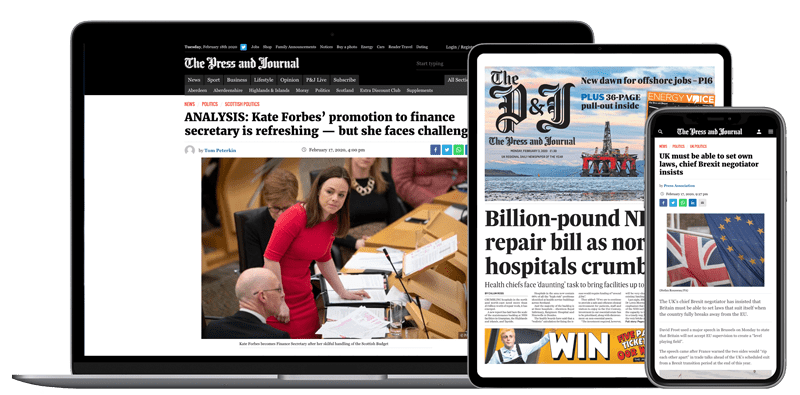 Help support quality local journalism … become a digital subscriber to The Press and Journal
For as little as £5.99 a month you can access all of our content, including Premium articles.
Subscribe