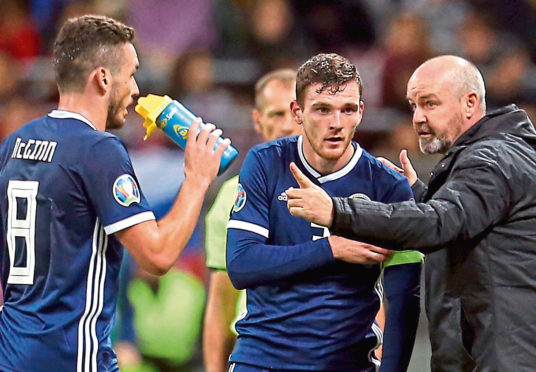 Scotland captain Andy Robertson insists it is the players and not manager Steve Clarke that must take responsibility for their struggles.
A second-half capitulation saw them beaten 4-0 by Russia on Thursday night, making it back-to-back defeats by that scoreline after Belgium scored four at Hampden last month.
It is also four defeats in a row for the national side, having lost to the Belgians in Brussels and then against Stanislav Cherchesov's team when they came to Glasgow.
Clarke admitted after the latest blow that he hoped Scotland had now reached the "lowest of the low".
They have won just twice in this Euro 2020 qualifying group, with the last coming in Clarke's first game in charge against Cyprus. But Robertson, a Champions League winner with Liverpool this year, puts the blame squarely at the door of the players for the current malaise.
He said: "Look at the goals we conceded. It's not the way we set up that was the issue. It's down to how many set-pieces we conceded. How many goals we conceded where we gave the ball away.
"The goals we conceded could all be avoided and that's what needs to stop.
"When you cross the white line the manager's work is done. Players need to take responsibility.
"For 60 minutes we did that and once we get a setback we didn't bounce back. It's his first international job and he has come from club football where he has had week to week to develop players.
"He is trying to cram everything in and so are we. But, yeah, he has come in with an idea of what he wants to do and I think you saw that in the first half in Russia."
They face San Marino at Hampden tomorrow night, before playing Cyprus away and Kazakhstan at home in their final two group games.
They have already secured a Nations League play-off for next March but are struggling to accrue any sort of momentum heading into those games.
Robertson added: "We need to be better on the ball, we need more composure but defensively I think we showed exactly what the manager sent us out to do.
"He (Clarke) can't control how or when we concede a goal from a corner. Or the fact we go into our shell a bit and end up three or 4-0 down.
"No-one on the sidelines or the stands can fix that.
"It's entirely down to the eleven men on the pitch and unfortunately we didn't do it."