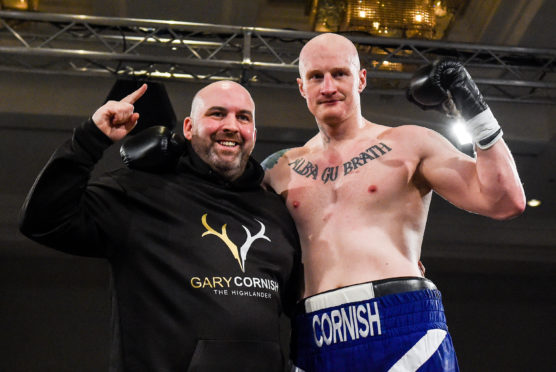 Gary Cornish is intent on unearthing the next boxing star from the north of Scotland after calling time on his professional career.
Following a change spotted in a routine brain scan, the Invernessian was not granted his licence by the British Boxing Board of Control and was left with no other choice but to hang up the gloves. He does not know where the issue came from but understands the board's decision, putting safety ahead of any professional aspirations.
Cornish intends on working closely with Sam Kynoch, the last manager of his pro career, to learn the trade of a show promoter, and Highland Boxing Academy head coach Liam Foy, who was both Cornish's first and final boxing coach.
Cornish said: "I'll be based in Inverness and the plan is to find some bright stars. Liam and I have a brilliant relationship and there's a lot of talent coming through at his club. That will get me into the coaching side of things and I know quite a bit about strength and conditioning, so I can hopefully help with that.
"I've shared a ring with some of the best boxers in the world so hopefully I can pass on that experience.
"I did all the tests the board wanted me to do and I thought that might sway their decision, but I respect it. They're just looking out for your safety. I had a specialist look at the reports and he said this could have happened to anyone; I've had no symptoms of anything. I just wanted to fight as that's what I'd trained my whole life to do.
"I would have liked to finish my career on my terms but my family just want what's best for my health. Through the process, Sam didn't have to do half the stuff he did but he was there with me."
The 31-year-old had undergone numerous medical tests during the last 12 months in a bid to prove his fitness to the BBBoC. The problem first flashed up after his trip to Russia to spar with Alexander Povetkin. A title fight with Croatia's Filip Hrgovic last August was shelved on medical grounds and his final bout will remain the 90-second stoppage of David Howe in January 2018.
He added: "I can finally focus on something else instead. I couldn't really make the decision but I spoke to Sam and he came up with the idea of working under him for a while. I'd never really thought about that side of things but it makes sense as I didn't want to get out of boxing."
Cornish took up boxing as a hobby to help him get fit for playing Highland League football.
However, when he discovered he had a talent for it, he took up the sport as a professional in 2011.
Victory over Zoltan Csala in May 2015 earned him the IBO inter-continental heavyweight title belt before the bout with Anthony Joshua at the O2 Arena. Cornish lost via a first-round knockout and was then on a road to rebuilding his career, which culminated in a British heavyweight title fight against Sam Sexton.
That October 2017 contest saw Cornish beaten on points – the first time he had gone 12 rounds – and the Howe fight three months later would prove to be his last. He finishes his pro career with a 25-2 record.
He added: "I've done a wee bit of reflecting and I'm pretty happy with what I achieved. Winning the IBO title was a good one and the O2 is still a great experience. People judge me by the Joshua fight but they don't see the work that went in to get that point. It didn't go my way on the night but it was a big learning curve for me. With the team we had to get to that point, where I was headlining a show, it was a big night for me and one I'll never forget.
"When I first started out I went to watch Dereck Chisora and Sam Sexton spar and thought if I can get anywhere near that level, I would be delighted."