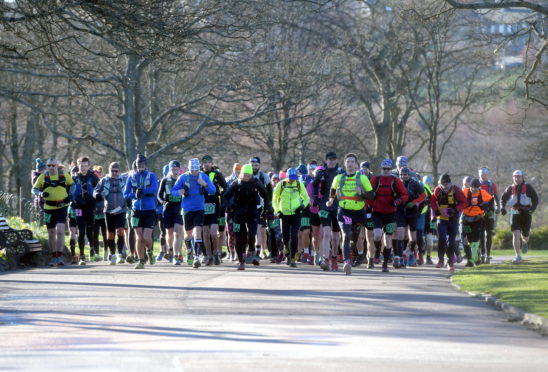 Banchory's Stuart Ross scored a win over 100 miles in the Deeside Way, overtaking long-time leader William Stuart close to Drumoak on the return journey from Ballater.
He completed the testing course, which included a detour up and over Scolty Hill as well as a loop around some of the hills shadowing Ballater, in 18hrs 24min 5sec.
Stuart was second in 19:07:46 with Jonathan Ward third in 19:20:38.
The 100-miler was one of three races being held along the Deeside Way, the path which links the city with the edges of the Cairngorms. There were also races of 33 and
133 miles.
Ross said: "It's the first race I've won so I am delighted. When I overtook the other guy to move into the lead he looked as though he had picked up an injury but he certainly put in a good shift after that to finish second.
"I have done the D33 three times, and when I heard this longer race was going ahead I decided I had to do it.
"The toughest part was probably just when we started to head back from Ballater because it's at that point that you realise just how far there is to go."
Hilary Clinton won the women's race in 23:25:00, with Lorna Maclean second in 23:38:00.
None of the 12 starters in the D133-mile race managed to complete the challenge, which Metro Aberdeen runner David Scott said proved to be psychologically more demanding than any of them could handle.
The route took the runners on an initial 100 mile slog from Aberdeen's Duthie Park to Ballater and back. They were then expected to retrace their steps for the final 33 miles by heading back out along the Deeside Way to Banchory before returning to Aberdeen.
That final stretch proved insurmountable, as Scott explained: "Four of us managed to complete the 100 miles within the 24-hour deadline but each of us independently decided not to start out on the final 33 miles.
"Psychologically, the thought of going back out and running the same route again was just too much. The weather forecast didn't help either, with rain and sleet forecast, so I decided to call it a day.
"It was a pretty tough run but it was really good and exceptionally well organised. The course was hard with long, relentless and relatively flat sections along the old railway line then some steep climbs at Scolty and in the hilly loop at Ballater."
Scott was first of the quartet, timed at 21:12:52 for the 100 miles, while his Metro clubmate Mark Le Huray (22:51:35) was next, followed by Sean Maley (22:53:05) and Sam Blackburn (23:02:03).
Meanwhile, Brian Sharp (Ochil) won the D33 race in 3:42:05 with Gavin Taylor (Insch Trail Running Club) runner-up in 3:56:25, and Dave Balfour third, 4:11:40.
Charlotte Finch (Dundee) won the women's title in 4:24:04, followed by Susan Johnston (Corstorphine, 4:34:29) and Janet Dickson, 4:41:11.