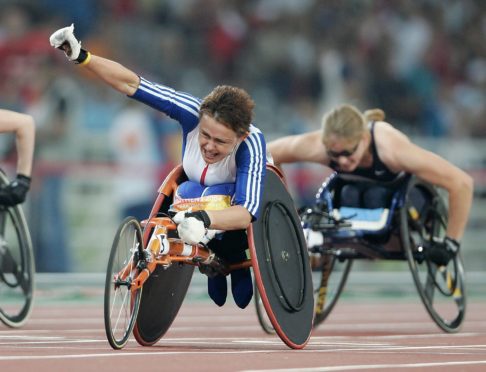 Tanni Grey-Thompson scaled the peaks of her sport, becoming one of the most decorated Paralympians of all time.
However, life for the 11-time gold-medal winner is not about looking back. Politics is the game she now dedicates her time to, sitting as a crossbench life peer in the House of Lords.
On the back of a general election campaign that has exacerbated the divide across the United Kingdom, centred on the arguments around Brexit, Grey-Thompson sees the need for sport to become a healer for a nation fraying at the seams.
She points to 2012, the golden summer where Team GB's success at the London Olympics generated a buzz for sport across the UK, and the Commonwealth Games in Glasgow as examples of the unifying power sport can have..
"It's really important because everyone needs a bit of hope and aspiration," said Grey-Thompson, the winner of the lifetime achievement award at BBC Sports Personality of the Year.  "We're in really difficult, challenging times – how do we dial back from some of the behaviours? People are emotional about where we are in politics.
"The amount of people that have said to me in the last few months that we need another 2012, because there was something a bit amazing about it. We had that in Glasgow for the Commonwealth Games. Sport brings people together and we need to find a way – maybe Tokyo and the build-up is the time to think happier thoughts."
Grey-Thompson feels she owes a great deal to the grounding given to her by parents Sulwen and Peter. Humility was a character trait impressed upon her; she does not make a show of displaying her athletic achievements at home. But for Sunday's award, she may make an exception.
"If you'd come to our house, you wouldn't know I was an athlete," Grey-Thompson said. "We don't really have anything out. It was the way my parents brought me up. My medals are in a rucksack. Both my parents have passed away and it was very grounding.
"Mum was amazing but didn't have a clue about sport. There was this particular commentator she didn't like – she had very strong passions about Welsh rugby – and the moment he said something nice about me, he was the most influential sports commentator that had ever existed.
"They were very grounding. You don't be pushy, you don't be selfish. But I might stick this somewhere prominent. It's amazing. This is the icing on the cake as an athlete. You don't wake up every day thinking you want to be at SPOTY."
Sunday night was an emotional night for the former wheelchair racer, being welcomed on stage at Aberdeen's P&J Live Arena by her husband Ian, daughter Carys and long-time family friend Jade Jones. If that was not special enough, Welsh rugby favourites such as Alun Wyn Jones and Jonathan Davies were in attendance – manor from heaven for the girl who grew up with aspirations of playing rugby for Wales.
She said: "I never really think about my sports career. I'm very forward-looking – I work in politics now, which is interesting. I only look back at my sports career at something like this, or a conference where I'm talking about my career.
"I did a podcast with the BBC the other week – you don't get up each day saying 'I'm going to be inspirational'. You just try get through each day. I look forward because there's a million things I want to do in politics. Sport gave me an amazing platform to do different things and hopefully my career in politics can live up to my career in sport."