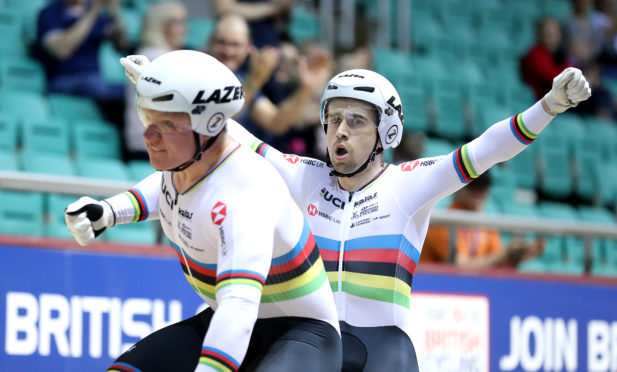 Neil Fachie knows his Paralympic hopes are hanging in the balance.
The Para-cyclist is hoping to compete in Tokyo this summer alongside pilot Matt Rotherham.
Fachie won gold at the Paralympics in London in 2012 and wants to add to that tally, but the 36-year-old appreciates it may not happen this year.
The coronavirus pandemic means doubt has been cast on Japan hosting the Olympics and Paralympics in July, August and September.
Japanese Prime Minister Shinzo Abe said at the weekend the games would take place. However, with travel restrictions across the globe and major sporting events being postponed, Fachie knows the same could happen to the Paralympics.
The International Olympic Committee (IOC) is planning talks  with international sports federations today.
Fachie said: "Last week I was of the mindset that of course it would go ahead because there was no way an investment of that size couldn't go ahead.
"But when you see other major events like Grand Prixs, the Masters and all major football falling by the wayside you think it's a possibility the same could happen.
"We're approaching it with the view that the games will go ahead. When you've been preparing for three-and-a-half years, you want the games to go ahead.
"But I'm realistic that a lot can change between now and August. The idea of it potentially being pushed back a year doesn't really appeal.
"If it happens and we have to re-adjust then so be it and we'll have to make sure we're still at the top of the sport to be in contention.
"The Japanese are very keen for it to go ahead and are doing everything they can – but with the Paralympics there is the added complication of athletes with medical conditions that could put them at greater risk. We'll have to watch, and wait and see what transpires."
Currently Fachie is still able to train at the Manchester Velodrome, although a planned training camp in Majorca this week was cancelled.
The Aberdonian added: "We've been briefed from British Cycling on basic health stuff, like not shaking hands with people and hygiene stuff around the velodrome like washing your hands regularly and using alcohol gel when you can.
"If you do feel unwell then you're absolutely not to come in and potentially spread it. But it has been so fast-moving we're just following the news the same as everyone else. We don't have any inside information."