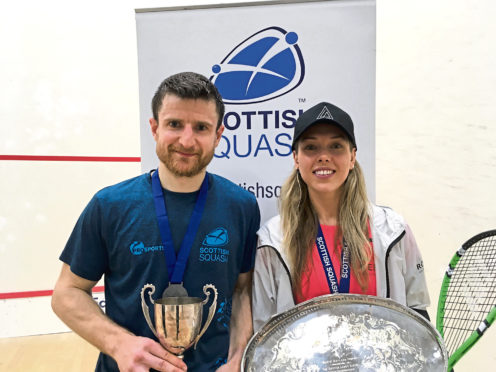 Inverness squash player Alan Clyne says a 10th Scottish National title would mark the perfect end to his season should it be cut short.
Clyne clinched the title for the seventh successive year in Edinburgh on Sunday, with an 11-5 11-7 11-7 victory over Perth's Rory Stewart.
The 33-year-old's first triumph in the event came in 2008, with his unprecedented ninth title last year breaking the previous record for wins in the tournament, which was first held in 1936.
Having won all but three of the last 13 finals, Clyne says the competition continues to mean as much to him as ever before.
Clyne said: "I'm very proud to be Scottish champion for at least another year.
"I really enjoy the tournament, it's one that I prioritise when I go through the tournaments I'm going to play.
"The PSA tournaments on the tour are important, but the Scottish National Championships are important to me too.
"To win it again for a 10th time is a proud achievement.
"When I first won the title it was very special. Last year was when I broke Martin Heath's record, as he was on eight, but I got to nine to break the record.
"Now I've got to 10 and I'm on to double figures, it's pretty special.
"I'm definitely hungry to keep winning them. I was happy when I saw the tournament was going to be on, so hopefully I can keep winning them."
Clyne's schedule has now ground to a halt following last weekend's victory due to the coronavirus outbreak, with the PSA World Tour having suspended all tournaments until the start of May.
Clyne remains uncertain over when he will return to action, adding: "They have said it's until at least May, which is probably optimistic. I don't think anyone really knows how long it's going to last.
"Whether they now have the off-season here, and have some postponed events later, we don't really know. If they are able to play then, maybe they will move to the summer.
"We really don't know what they are going to do."
Clyne has been taken aback by the speed with which Covid-19 has disrupted his schedule, adding: "It has moved so quickly.
"My last tournament was in Chicago which was at the end of February.
"When I got back to Edinburgh, my wife Olivia Blatchford, who is also a professional squash player, was at a tournament in Egypt when it was really escalating."