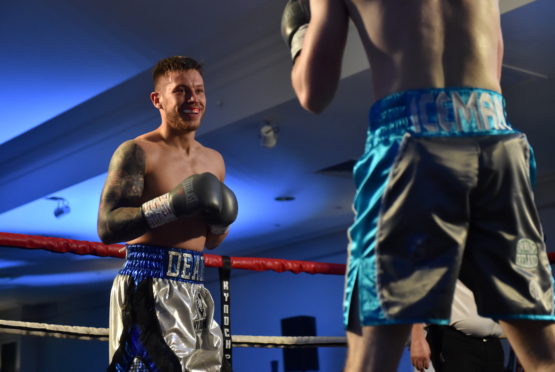 Undefeated Aberdeen welterweight Dean Sutherland is determined to emerge from the boxing shutdown ready to go for title glory.
The 21-year-old southpaw is continuing to train hard during Covid-19 lockdown, despite no indication on when boxing will return.
The British Boxing Board of Control (BBB of C) suspended all professional boxing under its supervision until the end of May.
However, the BBB of C recently confirmed fights would not resume as soon as lockdown and social restrictions are lifted.
The BBB of C insists that is due to strict medical practices it put in place to secure the safety of boxers.
When government restrictions are lifted, the ongoing work of BBB of C medical officers and ambulance crews in their NHS roles will continue for some time.
The BBB of C will not put further pressure on the health service and confirmed "professional boxing cannot happen until normal NHS services have resumed".
Sutherland was edging towards a title shot when boxing shut down last month and is focused on continuing that belt bid when action resumes.
He said: "People are not sure when boxing is coming back. When it does return and if I'm not ready there will be plenty of other boxers who will come in and fill that space.
"I aim to be one of those boxers who comes back ready to go and step in there straight away."
A former multiple weight world kickboxing champion, Sutherland boasts a flawless record of 10 wins from 10 bouts since switching to boxing.
Sutherland, aka "Deadly", has already secured one pro boxing title having defeated Keane McMahon on points last year to claim the vacant Irish Boxing Union welterweight belt.
The rigid structure of training in the gym is missing for Sutherland during lockdown but he has been innovative in ways to keep sharp.
Welterweight Sutherland has been running up and down the stairs of the block of flats he lives in while wearing a weighted vest.
He said: "If I can use this time to learn new things and progress myself as a person that can be good.
"It is important to keep busy.
"The whole routine has been thrown up in the air.
"Normally when I am in a training camp there is a set routine as I train in the morning, come home have my breakfast and a shower.
"I then go to work before training again after that.
"I can't get to the gym now and no one knows how long this lockdown or social distancing is going to go on for. I don't have a punch bag in the house.
"Obviously it is frustrating as the thing I really want to do is put on a pair of gloves and hit a bag, but I can't. There is a good running route I follow and I have been putting on a weighted vest and going up and down the stairs.
"I go up and down as much as possible doing single and double steps.
"We have a decent-sized living room to do some home exercises as well."