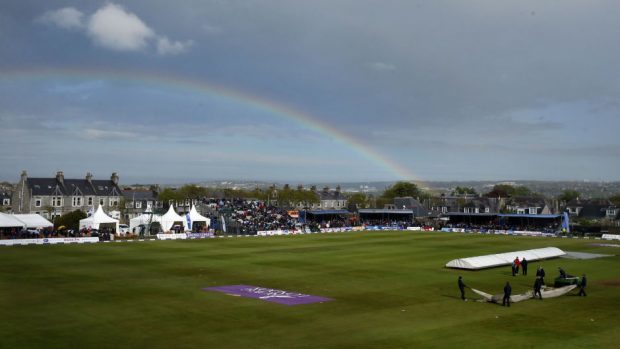 Aberdeenshire Cricket Club have welcomed the announcement from the Scottish Government that clubs will be able to use outdoor cricket facilities for the purpose of training and exercise, commencing on June.
The 162-year-old club, based at Mannofield is also taking the opportunity to open up its excellent facilities to other clubs in the area in a bid to help the sport be better prepared for the resumption of cricket practice and coaching in the Aberdeen area.
Director of cricket at Mannofield Dale de Neef was delighted to see the lifting of restrictions and said: "It's a step in the right direction, although there will be no league cricket before the season ends, but hopefully we will see some abbreviated games here, including the popular end of season T10 competition, involving all levels of cricket in the area. We are keen to embrace the wider community, particularly at this most difficult of times."
In the meantime, De Neef was particularly pleased to be able to offer individuals from other registered clubs the opportunity to train at Mannofield from Monday.
He said: "The ground is in perfect condition thanks to the efforts of our new groundsman Calum Howard who, like us all, is dying to see some cricket action.
"Everything is in place for individuals to register, while taking out associate membership of Aberdeenshire. If there are to be games in August, we would like to help other clubs get in some practice at one of the best facilities in Scotland."
The project will be run by club coach Daniel Sutton, long-time club servant at Mannofield Bob Buchan and overseas amateur Callum Mackaness. All three will report to the new post of director of cricket De Neef.
The facilities include two astro nets and and a square net which will be maintained in match condition. They will initially be for pairs and family members before, as guidance directs, moving to small group training and games.
Paul Gray, the secretary to the North-east Scotland Cricket SCIO, formerly the Aberdeenshire Grades, said: "We welcome any offers of wider training access from clubs who own their own grounds. It is, however, critical that clubs adhere to the guidance provided, proving the sport can be trusted when further relaxation of the rules comes along. There are nine key requirements for the return of cricket, all approved by Cricket Scotland."
Jan Stander, the player-president of Stoneywood-Dyce, welcomed the developments and said: "We are pleased to see Shire taking this step but would point out that People's Park has been open to other clubs for the last two years."
l Booking arrangements can be made at suttoncoaching.co.uk/ or by calling Dan Sutton on 07555 965 043