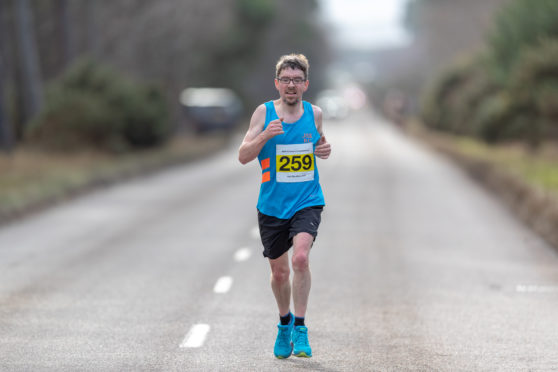 Top veteran north-east distance runner Tom Roche is keeping his fingers crossed there are no last-minute hitches and that this weekend he will finally get to compete in a marathon.
The Oldmeldrum-based athlete, who won the Scottish masters title in 2018 and was the Dublin masters champion last October, plans to compete in Sunday's Big Flat Runway Marathon at Elvington airfield near York.
Roche had originally hoped to run in April's Manchester marathon but it was postponed until September before finally being cancelled.
The same fate befell his next target, the Amsterdam marathon.
He then turned his attention to the Wrexham marathon which was to go ahead this weekend, but it was firstly put back to October 18 before finally being shelved.
The JS Kintore club member had yet another fallback opportunity, however, as he'd signed up for Loch Rannoch marathon, also scheduled for October 18, but it too fell by the wayside within hours of the Wrexham decision.
He said: "I was just about to call it a day and have a couple of weeks break from training when I heard about the Elvington race. I just hope it doesn't get called off at the last minute.
"There's quite a few other guys doing it who were originally heading for Wrexham. Central AC's Michael Wright, who won the Scottish title in 2018 and 2019, has entered and there's a few other runners I know about, so it should be a good race."
Roche, 44, has a best time of 2hr 26min 38secs set in Ireland last year which placed him eighth in the 2019 Scottish rankings.
Despite the disruption to his training, the lack of preparatory races and the uncertainty over when any marathon might take place, he remains hopeful of being able to run a decent time.
He said: "I'd like to be faster than 2:25:00, but it's difficult to tell. Normally I would have done one or maybe two half marathons in the lead up to the race, which would give me an idea of how I'm running, but that hasn't been possible.
"But looking at how my training has gone, I think I'm in slightly better shape than a year ago, but we'll see."
The Elvington race will be as much a psychological test as a physical one as Roche and his fellow competitors face the prospect of running a mind-blowing 10 laps of the airfield.
He said: "I seem to be able to switch off and keep to a good steady pace, so the laps don't bother me."
Hazel Wyness is one of the fastest entrants for the women's race with a PB of 2:56:28 from 2017 when she helped Metro Aberdeen win the British team title at the London marathon.
However, this will be the Westhill runner's first competitive marathon since clocking 3:00:25 for third position at Loch Ness in 2018.