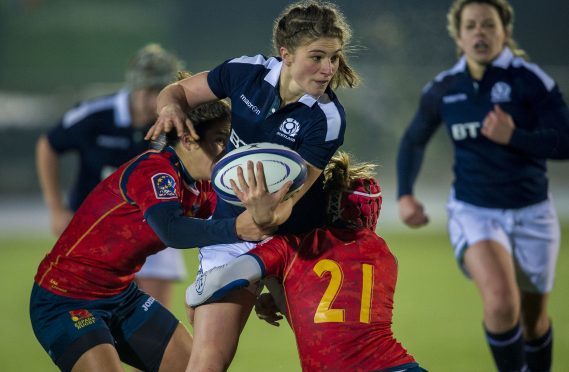 Glencoe's Helen Nelson has plenty to build on in 2017 after making the breakthrough into the Scotland women's rugby union team this year.
Centre Nelson made her debut as a substitute in a 24-0 home loss against France in the women's six nations in March in the first of four caps for her country during the year.
The 22-year-old was named player of the match in Scotland's 10-5 first leg defeat by Spain in the World Cup qualifiers at Scotstoun in November, with a 15-10 loss in Madrid seeing them fail to qualify for next year's tournament in Ireland.
Scotland have not recorded a competitive victory since February 2010 when they triumphed 10-8 in a six nations match against France.
After her recent involvement in the squad, Murrayfield Wanderers player Nelson is convinced the long wait will soon come to an end.
Nelson said: "It was really good to win my first cap – it's something you dream about and something I had been looking forward to for a few years.
"It all came up quite quickly and went by in a flash.
"My first game was halfway through the six nations and then I trained with the squad all summer which meant I was ready for the Spain qualifiers.
"At international level it's an intense, high-paced game for 80 minutes. There is no time to slack off.
"It came just at the right time. I've been playing at Premier League club level, so I felt ready.
"The standard is getting better all the time.
"We were together and we really got to gel as a team, although I play with quite a lot of the backs at Murrayfield anyway.
"The qualifiers were really frustrating. We were happy with the way we played though, we had a lot of possession.
"Our performances have improved massively.
"We are all really excited and confident, and that win is going to come – that's the thing we're really building towards.
"We're all looking forward to next year's six nations.
"We just need to look back at the Spain games and take the positives and look at what we can improve on."
Nelson, who studies geophysics at the University of Edinburgh, says her move to the capital four years ago reignited her early passion for rugby, and she added: "I grew up at Glencoe and I used to play with my brother Robbie and his friends – for about five years we would get together and play.
"I started going to Lochaber rugby club and playing in tournaments but when girls reach the age of 13 they cannot play with the boys any more, so I stopped and continued with other sports.
"When I came to university in Edinburgh I was able to play again and that was when I started at Murrayfield.
"My basic skills were a bit rusty but they were still OK. It took me a wee while to get up to speed with game understanding but my early years did well for me."
While Scotland's women's team searches for a long-awaited win, Nelson has not found success hard to come by at club level with Premier League champions Murrayfield.
She added: "We had won every game until earlier in the month. The league splits into a top four and a bottom four. We played Hillhead Jordanhill and lost 27-5, which means they are now top of the league.
"But it is all still to play for when it resumes. Last year we won the cup and the league.
"It's always quite a tight one but we're hoping to do that again.
"I hope to continue getting picked for Scotland and that we can improve as a team.
"We are aiming to get a win and build on that."