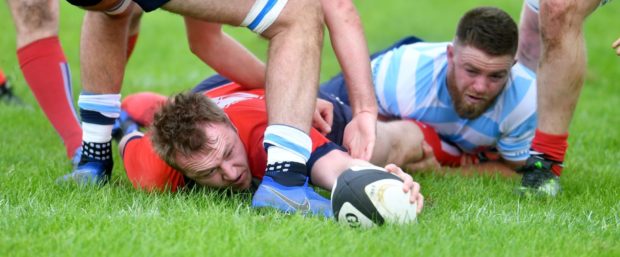 Aberdeen Grammar returned to the Premiership after an absence of five years with a four-try flourish to get their campaign off to the best of starts against Edinburgh Accies.
The visitors looked on course to win for the first hour of the game before the Rubislaw side came good to open the season with a victory.
Head coach Ali O'Connor was delighted with a first league outing which yielded a try bonus point.
He said: "We matched their physicality, which was vital to the outcome, but also played some first-class rugby enabling us to score four quality tries.
"Once again there were some big shifts up front where Robin Cessford was immense and, with Chris Jollands and Greig Ryan dictating in the back row, we ended the game in total control after wrestling back the game in the second half.
"Once again our new boy Nathan Brown was a star turn, adding two tries to one he scored in the cup last week."
The head coach also had the luxury of being able to introduce two other new faces to the team as the game progressed, including bringing on scrum-half replacement Patrick Ritchie who won the approval of stand-off and captain Sam Knudson who said: "It's not every game I have two partners.
"Both Patrick and Tommy Morrison had good games, making for a great day all round," he said.
The Edinburgh side started the better, spreading the play wide at every opportunity, although it was the Rubislaw men who took the lead when lock Cessford broke clear, taking the play to the Accies line, and then being available to score in the corner. Centre Tom Aplin missed the difficult kick at goal.
The Raeburn Place side hit back in the final 10 minutes of the half, scoring out wide twice through winger James Gordon and then flanker Patrick O'Sullivan, both superbly converted by stand-off James Loomes.
In between the two tries Aplin slotted a penalty to keep his side in touch at 14-8 at half-time.
Despite playing into the wind, Accies eased further into the lead two minutes into the second half when Loomes kicked a penalty, only to fade out of the game in the face of incessant pressure from Grammar.
They added three more tries, first from the new hero of Rubislaw winger Brown, then centre Nat Coe, both converted by Aplin who also kicked a penalty to give the hosts a 25-17 lead.
In the dying minutes Brown added his second, and his team's fourth. That Aplin missed the conversion mattered little to the ecstatic home crowd.
Grammar now go on the road in the rudest of health to face Glasgow Hawks, who lost 50-15 at Selkirk.
Hawick won 50-21 at Musselburgh.
Marr stormed to a 57-28 success at Jed Forest.
Currie Chieftains also enjoyed victory away from home with a 38-14 win at GHA.