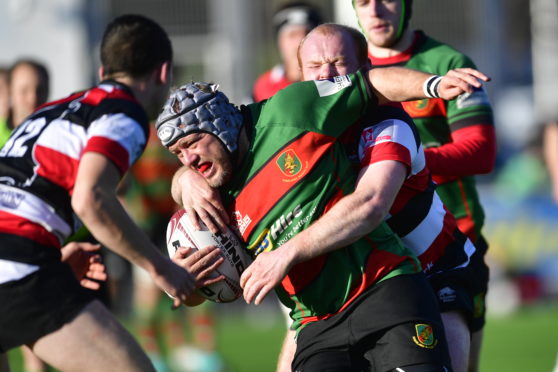 Highland hooker Kevin Brown feels competing among Scottish rugby's most illustrious clubs shows how far the Inverness outfit have progressed.
Davie Carson's men make the trip to face Melrose tomorrow at the Greenyards, which holds worldwide acclaim for being the venue of the Melrose Sevens tournament.
With Highland currently second in National 1 after winning a second successive promotion last season, Brown is pleased trips such as tomorrow's journey to the Borders have become the norm for his side.
Brown said: "It's quite exciting going to the Greenyards; it's a very famous rugby ground. Getting to play there will spur boys on. It's a fantastic opportunity.
"We have played at quite a few big clubs now, such as Heriot's and Ayr. It certainly shows how well we have been doing when we've got the opportunity to play these teams and play at these big grounds.
"Going away to any team in the league is going to be a tough trip, but especially a Borders trip."
Brown is determined to keep Highland challenging at the top end of the table, adding: "It was always a bit of an unknown going into this league, with the restructure and the Super6 club teams coming into National 1.
"We have handled it pretty well. We are second in the league, so we can't complain about that at this stage of the season.
"It's really just about keeping focused, and to keep pushing on to go for that promotion.
"The hard thing this season is that only one team gets promoted, so there are small margins for error.
"We just have to keep ourselves in the fight."
Although Highland have traditionally enjoyed a dominant record at Canal Park, Brown insists their form on the road is equally crucial.
He added: "I think it was proven in years past that winning away games is the key to continuing to get promotion.
"That's where we really need to pick up points, as teams tend to normally find the away games the harder games.
"We have had a good run of games so hopefully we can build on that momentum and continue that winning streak."