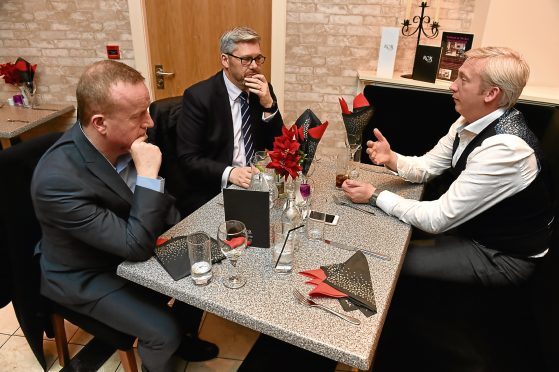 As another year draws to a close it is only natural that people reflect on how 2017 has been.
With the north-east still picking itself up from the oil and gas downturn, I was interested to know what business had been like in the region and if the increasing oil price had renewed hopes in the sector for the future.
But I was also interested to hear how people had started to prepare themselves for life after oil.
So I headed out for this month's business lunch with three people who all know a thing or two about the local economy and who have witnessed first-hand the highs and lows of the industry crash.
David Gibson, Andrew Burnett and Adrian Watson joined me for some hearty food on a cold winter's day at the restaurant attached to the Rox Hotel in Market Street to look back on the year and discuss the hopes for the future.
While times may have been slow for others, Mr Gibson said business had been booming with him at wealth management firm Mattioli Woods.
"We have two sides to the business," he said. "We have a personal side doing wealth management and the side that deals with employee benefits.
"While employee benefits over the last few years has slowed down, there are definitely green shoots – but on a personal side we have had to take on new staff to cope with the demand. And while it sounds like we are making capital out of other people's misfortune, it is because of the lay-offs in oil and gas and the surrounding structure around it that we have been so busy.
"We have umpteen clients who have come to us to say 'I may be made redundant, I need to look after my money'."
Mr Gibson said the effects of the downturn have meant more people are looking for advice, and that they now take more of an interest in what is happening to their money.
He said: "What used to happen is, at times like this we would go to a party and people would ask what we do. When they found out they would make any excuse possible to go see if there was someone more interesting sitting in the corner. But now, I dare to say it, pensions have become almost interesting because people care about what happens to their money. A lot of the doom and gloom people have been feeling probably isn't as bad as we think it is, but when you hear about job losses, 150 here and 200 there, those have slowed down.
"For us where one side of the business has suffered the other side has more than picked up the slack because of the individual side of things."
Mr Gibson, a consultant at the firm, said he had also noticed people becoming more concerned about their pensions because of the change in employment habits in young people.
He added: "It really triggered two years ago with the pensions freedom rules that came in but people are generally getting more engaged. The generation where people thought the state would look after their pension and have a final salary pension, that's all gone, and actually we get a lot of clients now who are retiring themselves who are asking what happens to my pension fund if and when I die, because my kids won't have this.
"My kids won't work 30 years for one business. The millennials now don't look for a career ladder they look at salary ladder. If someone across the road offers them £2,000 more to do the same job they are away. The loyalty factor is gone. I believe the average is seven different jobs in a lifetime now and that's only going to get worse."
And while people are changing their jobs every few years, more and more are taking advice about how to be their own boss.
Mr Burnett is the operations director at social enterprise Elevator. He has worked with small and medium-sized businesses within the field of economic development over the last 12 years and currently has responsibility for the Business Gateway teams across Tayside, Aberdeen City and Aberdeenshire.
He said since the decline in oil and gas "huge numbers" of people had been through the doors looking for some help in creating a path for their future.
He said: "It's green shoots of recovery. That's what new businesses are all about. It's about looking ahead with some degree of optimism and realism of course as well. It's not just a case of assuming life will be the same as it was five years ago but we are seeing huge numbers of people coming through the doors.
"Our forecast this year is to start up 1,500 businesses through Business Gateway support. The automatic assumption is that there is bleed out through the oil and gas industry but looking at the figures it's about 11-12% coming from oil and gas which is a lot less than everyone would expect. That's been pretty consistent over the last few years. We are also seeing students coming through the doors, which shows people a lot earlier in their career development are considering self employment than we are used to seeing.
"They are aware of the benefits of being their own boss, all of the flexibility that goes along with it and interested in self empowerment and being the master of their own destiny."
Mr Burnett said they receive around 3,000 inquiries a year and of those, 1,500 will start up.
In fact, he says the interest in starting up a business is so great, he believes the north-east is the most entrepreneurial region in the country.
He added: "Aberdeen city and shire is the most entrepreneurial city in Scotland and it is up there in terms of UK as well."
And Mr Watson, former Chief Superintendent for the region and now chief executive at Aberdeen Inspired, couldn't agree more.
But he said Aberdeen and Aberdeenshire needs to get better at singing its own praises and celebrating success.
He said: "That's our history isn't it? It is richly embedded in the north-east that we are entrepreneurs. Farming, fishing, resilience, a strong work ethic. But it's about building that narrative. There is a reticence in the north-east. We tend to be quite bad at selling ourselves."
Mr Watson said he believes that the work being done by Aberdeen Inspired, the banner under which the Aberdeen Business Improvement District (BID) operates, is helping elevate the city but says negativity can often overshadow the what is being done. He added: "If you look at Union Street, everyone has a view on it in the north-east, but the vacancy rate is no worse than any other city including Edinburgh and Glasgow but that doesn't necessarily play through. People keep saying it's ailing, but it's far from ailing. We have fantastic independent retailers, fantastic flagship centres, such as the Bon Accord and Union Square.
"Events such as NuArt and the Great Aberdeen Run have also helped boost the city this year and there's more to come, but the city needs to be that gateway to Aberdeenshire the way that Inverness is to the Highlands so that people don't bypass us to get to the shire. We want to see people coming into the city, spending some money and if I am achieving that it should be vibrant, colourful and wantable."
Summing up, everyone around the table agreed that while the economy had been badly dented by the downturn it was not necessarily a bad thing for the future growth of the region.
All men felt that while many in the north-east had lived a good life from the fruits of the North Sea, the focus has been changed to ensure the region has a future.
Mr Gibson added: "We are in a transitional stage. The problems in oil and gas, as much documented as they are, have gone on for longer than anticipated and some people will see that as exciting. Aberdeen may not be the place that it was five, 10 or 15 years ago. Aberdeen used to look down its nose at places like Dundee and Perth, and in my view we are now 15 or 20 years behind these places as we have never had to work for it.
"There is nothing that can't be fixed by throwing enough money at it and by money I mean resources. If you have a problem to fix, it might be over budget but it will be fixed.
"The real creative thinking comes from when you don't have the money and you still have to solve the problem. The thing I have compared it to in the past is a post-war housewife, if you have got rationing and you have four kids to feed, you make it work. Aberdeen is a city for lots of good reasons, we have enjoyed a lifestyle that has allowed house prices to increase allowed new houses to be built and has allowed us to buy new cars every three years. Now that this isn't there we're having to work harder at making this place the type of city we want to live and work in and in some ways I am hopeful that the oil and gas doesn't recover to where it was as things will just go back to where they were before."