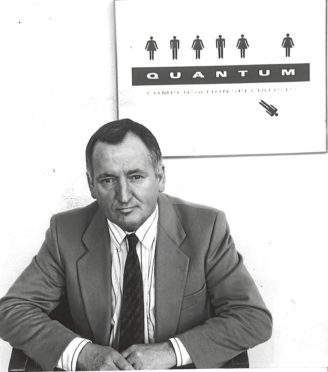 It may be the French translation of Smith, but Lefevre is anything but a common name in the north-east. So much so that when you utter it there is only one thought that springs to mind – Frankie.
Eighty-three-year old Frank Lefevre is so renowned in Aberdeen that he was even the subject of a Scotland the What? sketch.
But what has led to such infamy? Is a name alone enough for national success – something the experienced lawyer knows all about?
Well according to him, it hasn't hindered his success but he takes pride in admitting that a name alone is not enough to hang your hat on.
"It's unusual I suppose but it's just French for Smith," he said. "It has done me no harm there is no doubt about that. It's easy to remember, difficult to forget but what you have to have is a measure or percentage of success which makes you worth remembering.
"Luckily enough we seem to have done reasonably well in that respect."
Mr Lefevre was born and raised in Aberdeen, attending Robert Gordon College before heading off to study law at the city's university.
Following a short stint in advertising he then embarked upon a career in law and has been practising in the Granite City for the last 60 years – almost to the day.
Not only was he an extremely successful criminal lawyer, but Mr Lefevre was responsible for introducing the no-win-no-fee culture to the UK.
After setting up his own practice in 1970, he noticed as his reputation grew so did his business.
However he perceived there to be a flaw in the civil legal aid system, which he felt meant the whole process was particularly slow.
He said: "I committed myself to being a court practitioner, whether it be criminal work or civil work it didn't matter because that's what I had elected to do.
"I enjoyed doing it and it felt fairly natural that as I did crime the business grew and I needed more guys to come and join me. I could then see that going into the civil side was going to be more important to me in the longer term.
"What I had found was that the civil legal aid system was not worth the candle and the rate that people were paid was not attractive.
"The scheme by which legal aid was granted was terribly slow. You had to satisfy the committee, that was situated in Edinburgh, that you had a decent chance of winning the case and these three things meant there was a terrible hold-up. I found myself getting fed-up of waiting for legal aid and I would say to myself 'this is a decent case I am going to crack on because I think I could win it'. If you like that was Quantum Claims in advance."
And after some experience dealing with a lawyer in the States Mr Lefevre decided to launch his own firm which would replicate the American way of working in Scotland and shake up the entire legal claims system.
He said: "I had a case in 1986, two divers that had gone off the side of a boat that should have been into the water but as it happened they had placed the barge on that side and several people got serious injuries.
"There were Americans involved too and an American lawyer got in touch with me and I said we were pretty sure we were going to win it. So I met up with him. As it turns out it was very fortuitous and we dealt with him for many moons.
"He said 'we can do better actually as you are raising the claim against the employer but you can also claim against the people who put the barge there'.
"So he went on to raise an action in Florida under the whole no-win-no-fee concept and I thought to myself this is going to arrive in the UK sooner or later, why should I not be the one to take it here? That's how Quantum was born."
But Mr Lefevre's vision was not welcomed by everyone and he found himself facing fierce opposition from the Law Society of Scotland who threatened to take away his practising certificate.
He added: "In May 1988 I just about shocked everyone. Particularly the Law Society. They said to me 'You formed this company and you have a choice. You either give up your practising certificate and do Quantum Claims or pack in this idea of Quantum Claims and you can keep your practising certificate'.
"They wanted to prevent it because it was seen as an illegal act to be paid from the proceeds of a claim to get a share into your pocket. I was at a wedding a week later and I was introduced to Charlie Wilson who was the editor of the Times at the time. He just about collapsed when I told him what was going on. He couldn't believe it when he heard what I was planning to do and he put it on the front page.
"The Law Society were taking a fit and shouting the odds claiming it was criminal and sure enough they raised a case against me and against Quantum as they wanted to get rid of us.
"The Law Society felt sure they had won but really we did. I was told strictly these are the things you can do, these are the things you can't do and I was told I had to toe the line. And I did as best I could.
"They genuinely thought that this was something that was not entitled to happen, but the truth is as far as you and everyone else would have seen, about 800 companies offering no-win-no-fee came into existence after Quantum and it is now common practice across the country."
By 1988 Mr Lefevre was almost exclusively dealing with civil cases. Initially Quantum Claims turned over about £2000 as time and money had to be spent investigating and preparing the cases.
But given nature of business in Aberdeen it was not long before people had a reason to look to Quantum Claims.
He added: "In the first years we made very little, for the very simple reason that when a claim comes to your door you have to investigate it, the time that runs in before you can get any money out of it is going to be two, three or four years.
"But the other dramatic thing that occurred was Piper Alpha. This happened within about two months of setting up and I settled the first fatality.
"We didn't get quite £1million but the rest of the guys (solicitors) taking these claims locally had linked up with American lawyers. They were all sure they were going to get £1million so they were quite keen for us to do the first one because we were quite happy to pick up £995,000. We couldn't quite call it a £1million settlement but nevertheless that figure was important to us for those who were liable. That was really demanding.
"I picked up about 16-18 claims from Piper Alpha to get better settlements for them. Then the Ocean Odyssey occurred and I have claims coming in from all these guys who ended up in the sea.
"By that time I knew what PTSD was, as Piper Alpha had established that and we had picked up a huge number of claims."
In order to make the business work, however, Mr Lefevre and his team had to be sure the cases he was taking on were likely to be successful, otherwise they would have worked on a case for nothing.
He said: "We had to be satisfied that the prospects of success were reasonable as it was our funding and we were careful not to choose badly. Although you can't win them all and sometimes it's hellish expensive.
"Because of the introduction of the feeing system, where people had £1,200 to pay to even bring an action, we used to often take on a case and pay that £1,200 for the individual because he's lost his job and he doesn't have that sort of money available.
"Over the last few years we have been sitting here doing settlement cases because the number of people being made redundant. Each of these we have to look at and think do they have a case for something more then they are being offered? But most employers will want to avoid a court case while getting rid of staff they can no longer afford."
As well as being a renowned lawyer Mr Lefevre is also a shrewd businessman with stakes in property across Aberdeen and has even put his name to a piece of engineering.
He said: "I have an interest in a company in an oilfield which came directly from a case I was looking at 25 years ago.
"I was looking after the guy who invented what is now Lemac Oilfield Rentals. 'Le' being for me Lefevre and 'mac' being from Kenny Mackintosh who is known throughout the oilfield world as Kenny Mac. He invented this and had an arrangement that contractually started to go wrong.
"There was only one machine being built at this time and we went to court. We were successful at being able to settle it but his problem was there was still substantial funds that had to be paid for which he wasn't quite able to do. He very kindly asked if I was interested in going into it along with him which we did and formed Lemac Oilfield Rentals. We now have 14 of the machines on the go across the world. I simply keep a good interest in it without any real ability to assist. It is quite a satisfying thing to have done and it came directly out of a court case."
But despite slowing down (slightly) the octogenarian shows no signs of retiring any time soon.
He added: "I am sure one of these days I will retire for one reason or another. My three kids work here. I don't work anywhere near the same rate but I work when there is work to do. I still enjoy it, so why not? And there is still a demand from people for me to represent them.
"The greatest one was Buff Hardie in Scotland the What? had a sketch. They were bringing in the criminal and they said 'Fars Frankie the day? He selt ma hoose. Wisnae easy – it was a cooncil hoose.' That was the joke at the time as you couldn't by a council house then. That was good advertising for me."
They said to me 'You have a choice. You give up or pack in this idea and keep certificate'