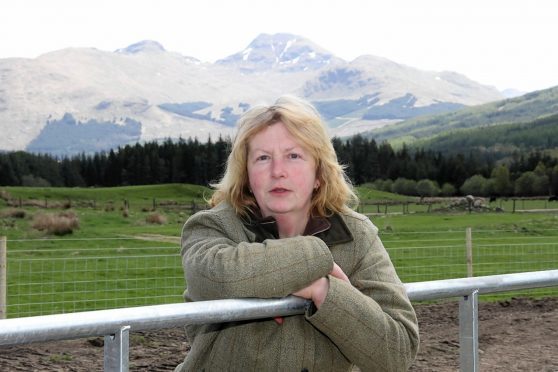 One of Scotland's most well-known sheep farmers has launched a scathing attack on Scottish Government over late farm payments and the sheep coupled support scheme.
Dalmally farmer Sybil MacPherson, who is the immediate past chairman of the National Sheep Association in Scotland, was heavily critical of the Scottish Upland Sheep Support Scheme (SUSSS), also known as the ewe hogg scheme.
She said the scheme rules were too stringent to follow and not practical for sheep producers in the hills, putting them at high risk of penalties from rule breaches.
"The most vulnerable people in the whole sector are subjected to this," said Mrs MacPherson who starred on the popular This Farming Life television programme alongside husband George.
"The whole ewe hogg scheme puts your whole payment at such risk if you get it wrong. People have lost their entire payment through no fault of their own and there's no appeal system."
She said government had ignored industry concerns that the scheme was not fit for purpose.
"The government was told in the very outset that the ewe hogg payment was not going to work," added Mrs MacPherson.
"We don't think it could ever deliver."
The Dalmally shepherdess also expressed anger over farm subsidy payment delays, caused by problems with the government's new farm payments IT system.
"It's absolutely scandalous that no one has been called to account," said Mrs MacPherson.
"If anyone else had created such a failure, heads would have rolled. Somebody has to be held to account for the catastrophic failure in support payment delivery."
A Scottish Government spokesman last night provided an update on farm payments.
He said: "Since November, we have paid out 80% of their anticipated full basic and greening payment in the form of national loans to 13,279 farmers and crofters, with a total value of £275million, and paid an additional 10% of basic and greening payment entitlement to 9,903 farmers and crofters. We have also issued 2016 LFASS loans to over 8,000 farmers and crofters, worth approximately £49million in total, which in most cases represents 90% of their anticipated full LFASS payment.
"We know that some famers and crofters are still waiting for some of their payments and we are working hard to resolve these."
Commenting specifically on the ewe hogg scheme, the spokesman said government had received more applications than anticipated.
"As with all schemes, we are working flat out to get payments out of the door and into farm and croft businesses," he added.
"We remain on track to make Scottish Upland Sheep Support Scheme payments by the end of June, providing additional support to sheep producers who farm on Scotland's most challenging land."U