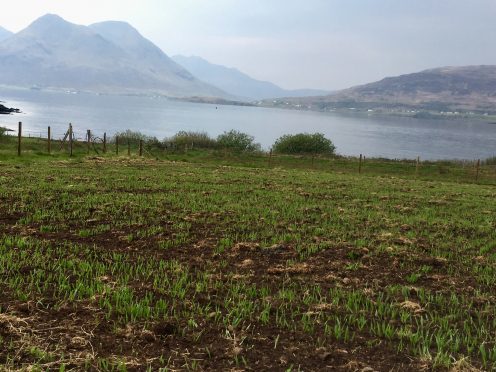 A series of trials is taking place on Raasay to establish whether or not it is possible to grow malt standard barley on the island.
The work is being carried out by craft whisky makers R&B Distillers, which is in the process of building the island's first legal distillery.
The distillers are on a mission to find a variety that ripens well and has a low enough moisture content for malting.
The five varieties being trialled are: Bere, Conerto, Tartan, Iskria and Kannas.
Bere is a traditional, very early maturing six-row barley variety, which when grown in Orkney last year was harvested 21 days earlier than Concerto.
Concerto – a two-row variety – is the most widely grown malting barley variety in the UK.
Tartan, which has provisional recommendation for distilling, was grown for several years in Orkney for the Highland Park Distillery. It is a two-row variety which was harvested six days earlier than Concerto when grown in Orkney last year.
Both Iskria and Kannas are two-row varieties with a similar maturity to Bere. Iskria originates from Iceland and Kannas is a Swedish variety.
All varieties were all sown in April with advice and support from neighbouring local farmers Andrew Gillies, John Gillies and Alasdair MacAskill, and Peter Martin from the Agronomy Institute at the University of the Highlands and Islands.
A spokeswoman for R&B Distillers said: "If the trials are successful, we intend to hold an open day for all local farmers and crofters to see the results as well as hear about the future of barley growing on Raasay.
"R&B plans to offer local farmers and crofters an alternative crop to grow, with a guaranteed end customer. Working directly with the primary producer, R&B will shorten its supply chain and offer an agreed price for any crofters on Raasay, Skye or Kyle that can grow the successful variety for distillery use."
She said the long-term objective of the distillery was to grow enough local barley on Raasay and the nearby islands of Skye and Kyle to fulfil the entire barley requirement for the Raasay Single Malt.