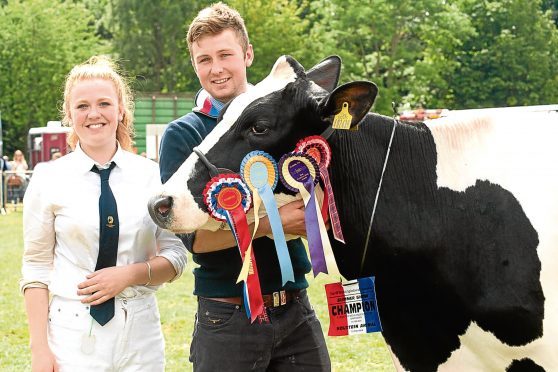 A renowned Aberdeenshire dairy herd started dispersing its cattle at a special sale in Carlisle.
The Deveronside herd of pedigree Holsteins is run by the Mair family – Barclay and Lucy, in partnership with Barclay's parents Kenny and Muriel, and their children Kenny jun, Judy, Sally and Archie – at Kinnermit, Turriff.
The family has decided to sell off the herd, which was established in 1942, as a result of dairy giant Muller's decision to close its Aberdeen milk plant.
The family is one of a group of north-east suppliers forced to pay a haulage charge of 1.75p a litre to have their milk taken south for processing.
According to the Mairs, this costs their business around £65,000 every year.
At the sale at Harrison and Hetherington's Borderway Mart, a top price of 4,000gn was paid for in-milk heifer Deveronside Mopan Olga, by Mopan. She sold to T.S. Thomson, Kikton Farm, Cowdenbeath, Fife.
Next best at 3,000gn was second-calver Deveronside Altameteor Tammy, by Sully Altameteor. She sold to E.M. and E. Pattinson and Son, Walby Hall, Crosby on Eden, Carlisle.
Other leading prices included 2,600gn for September-2014 born Deveronside Microlite Brandy selling to R. McNeil, Cairnpat, Lochans, Stranraer, and 2,550gn for four-year-old Deveronside Demsey Roxy 2, selling to Bradleys Farms Ltd, Park Farm, Poulton-Le-Fylde.
Fellow Aberdeenshire dairy farmers – the Taylor family at Upper Briklay, Methlick Ellon – also made the trip south to snap up some Deveronside genetics.
Amongst their purchases were second-calvers Deveronside Pesky Helga, by Welcome Armitage Pesky, and Deveronside Jeeves Martha, by Ked Outside Jeeves. The Taylors paid 2,300gn for each of them.
In total 99 in-milk cows sold to average £1,612.97, and 54 in-milk heifers sold to an average of £1,918.19.
The Mairs plan to sell another batch of cows and heifers in January 2018, followed by an entire youngstock dispersal in spring next year.