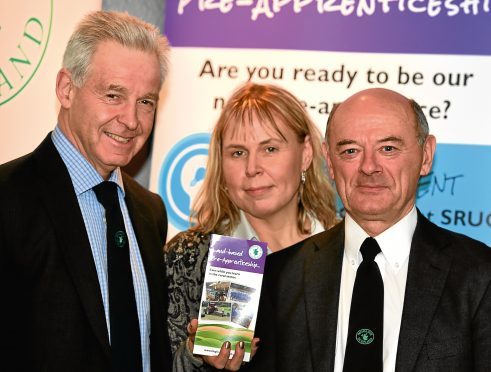 Scotland's largest machinery ring enjoyed a boost in turnover and profits last year.
Ringlink, which has offices in Coupar Angus, Elgin, Laurencekirk and Oldmeldrum, recorded a turnover of £1,298,260 for the year ended July 31, 2017. This is up £138,052 on the year before.
Pre-tax profits were also up to £33,617, from £4,881 previously.
Ringlink Services, which provides labour and training, posted a £476,754 increase in turnover to £5.342million. Pre-tax profits were down to £114,968, from £120,394 before.
Speaking at the ring's annual general meeting in Thainstone, managing director Graham Bruce said: "We have had an excellent year for both companies and produced positive results and profits. We are not a profit-driven company but we need to make surpluses to continue expansion."
He said staff numbers had increased in the year to 38 full-time employees, and in the next 12 months the farmer-owned co-operative would further increase numbers.
In his annual report, Ringlink chairman Andrew Moir, who farms at Mains of Thornton near Laurencekirk, said: "An increase in staff numbers to service the growing demand is envisaged and planned for. We are entering a very difficult environment both physically and politically, therefore we must embrace the co-operative values, even more, to allow success."
Both Mr Moir and Mr Bruce said the machinery ring's biggest achievement in the year was securing official accreditation for its land-based internship programme.
The scheme, now in its fifth year, has achieved national accreditation through SRUC resulting in it becoming the Land-based Pre-apprenticeship Programme (SCQF Level 4).
Ringlink marketing and development manager Gail Robertson, who runs the scheme, said the next challenge would be ensuring the qualification is eligible for apprenticeship funding. She said: "We need sustainable funding. Without that, it [training scheme] cannot roll out nationally across Scotland."
Other Scottish machinery rings, including HBS Ring Ltd in the Highlands, have already expressed interest in running the scheme in their areas, added Mrs Robertson.
Mr Bruce said he was confident the funding issue would get resolved, and said the next challenge would be ensuring there are enough mentors for youngsters.
He said: "Often when we get asked for skilled men at peak times, we don't have them.
"If we [industry] don't take the time to train them [workforce] now, we are in trouble."