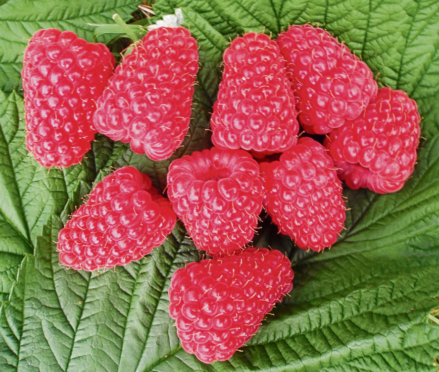 Invergowrie's scientific soft fruit powerhouse yesterday officially launched the new raspberry variety, Glen Carron, to the market and revealed ambitious plans to develop breeding programmes for gooseberries, honeyberries and cherries.
Glen Carron was bred by the James Hutton Institute's commercial subsidiary, James Hutton Limited (JHL), and is familiar to many growers as it has been in trials for eight years.
JHL soft fruit breeder Nikki Jennings explained that the variety came from a cross made in 2004.
"It has been a firm favourite with growers throughout the UK and Europe during the trialling period down to its superb flavour and looks," she said.
"In short, our new variety tastes great, looks great, stores well and can contribute to reducing waste. Everyone that's tried it is confident that Glen Carron is the variety to look out for this summer."
JHL business development manager Jamie Smith told soft fruit growers meeting at Inchture that the raspberry was a new floricane variety.
"It represents our aim to produce high-quality cultivars suitable for low-input systems that can be grown economically," he said.
"The Raspberry Breeding Consortium's programme is supported by the underpinning science of the James Hutton Institute and uses molecular markers to identify important traits early in the breeding process with the intent to reduce the long timescale of the breeding process."
Blackcurrant and blueberry breeding programme are already established at the Hutton campus, but Mr Smith went on to outline ambitions for other crops.
"The institute has always had good success with the breeding of blackberries but we're now looking to keep pace with newer, sweeter snacking varieties to develop a new breeding programme and bolster international work," he said.
"We have a consortium established which includes German, Dutch and French propagators who want to drive it forward."
Mr Smith said JHL was looking at reinstating a gooseberry breeding programme at Invergowrie.
"We have bred them in the past, semi-successfully, but we had two inquiries from Europe asking us to reinitiate a gooseberry programme. They come in an array of colours – green white, yellow, red – and you can imagine the marketability of that crop to children. So maybe . . ."
He added that JHL was also interested in breeding honeyberries and a Scottish cherry variety which could extend the UK season.
He said: "These are things on the horizon. They're a long way off, but it's what we're working on."