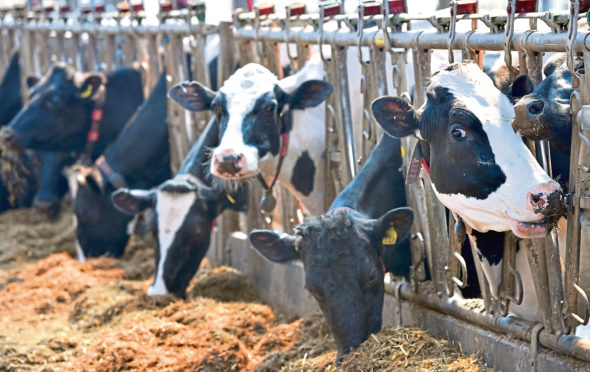 Feed trials hosted by Bruce and Jane Mackie at their dairy farm at Middleton of Rora, Peterhead, have convinced the couple that they can happily feed their cows on a ration containing a locally-sourced alternative to imported soya.
The new feedstuff, developed by Norvite in Scotland and produced from locally-grown oilseed rape crops, was trialled on the farm's 250 pedigree dairy cows.
Called NEOlac, the replacement product was compared with soybean meal over a five-month period in which the cows were fed a ration containing NEOlac for six weeks before switching to a soybean-based ration for six weeks.
Milk yields and quality were closely monitored throughout the two six-week periods, followed by a repeat of the two six-week sessions. The trial was independently monitored by specialists from Scotland's Rural College.
"We are pleased with the results," said the couple, who run an award-winning yogurt business at Middleton of Rora.
They added that their cows are producing quality milk, as required for the farm's natural yogurt production "every bit as well with NEOlac as with soybean meal".
They also highlighted the importance of being able to use locally-sourced feeds rather than ingredients with air-miles attached.
"Our yogurt customers often buy our Rora Dairy products in order to reduce food miles," they said.
"It is fantastic that we can now confidently use NEOlac to reduce our livestock feed miles and boost the overall environmental sustainability of our business."