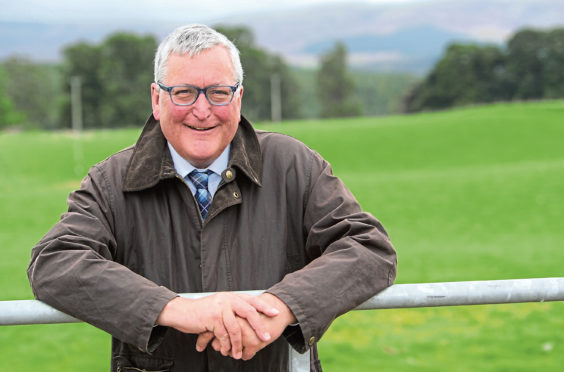 Additional funding of £211 million for Scottish farmers and crofters must be delivered to the Scottish Government now, rather than in April next year.
That was the message from Rural Economy Secretary Fergus Ewing during a press briefing on farm subsidy payments in Holyrood yesterday.
He welcomed the "belated" commitment from the UK Government to return convergence uplift monies to Scotland, but said the cheque was not in the post yet.
Convergence uplift is extra Common Agricultural Policy (Cap) funding allocated to the UK to bring Scotland's per-hectare subsidy average up.
The full allocation was not given to Scotland and years of lobbying from industry and the Scottish Government led to the formation of the Bew Review Group to look at intra-UK farm subsidy allocations.
Earlier this month Chancellor Sajid Javid vowed to "correct that decision" by awarding £160m to Scots farmers, while the Bew Review Group recommended a further allocation of £51.4m in funding over the next two years.
Mr Ewing said the normal timetable for autumn spending commitments, whereby the money is awarded in the spring of the following year, was not applicable in the case of convergence uplift funds.
"This is a decision where a government says we got it wrong, so surely the normal procedure should not apply," said Mr Ewing.
"If you take money wrongfully, you pay it back straight away. The money should be paid over now."
He said Finance Secretary Derek Mackay was writing a letter to the chancellor asking the money be paid now.
On plans for how it will be spent, Mr Ewing said Scottish Government officials were developing plans and industry figures would be consulted before a final decision is made.
"Obviously there's some work to be done about how the money is going to be used, but clearly the lion's share must go to whom it was intended," added Mr Ewing.
"This is a different category of payment from the norm.
"This is where we do have to try to correct a historic injustice."
He said the money would not go to those who have ceased farming, but perhaps missed out on extra funds while still in business and decisions on which businesses were most eligible would not simply be based on their participation in other subsidy schemes such as the Less Favoured Areas Support Scheme (LFASS).
"The aim really is to help those that most need the assistance," added Mr Ewing.
"We need to have discussions with the key stakeholders and that's right and proper, but I hope we can come to a final (support) package as quickly as possible and be ready to dispatch the money as soon as possible."
A Defra spokesman said: "We have already confirmed we will provide Scottish farmers with the £160million convergence funding they feel they should have received previously.
"This funding is ring fenced to be spent on farmers and land managers in Scotland during the 2020-21 period, in line with all our commitments made in the latest Spending Round.
"We have also been clear we will maintain the commitment to provide the same cash total in funds for farm support until the end of the Parliament."