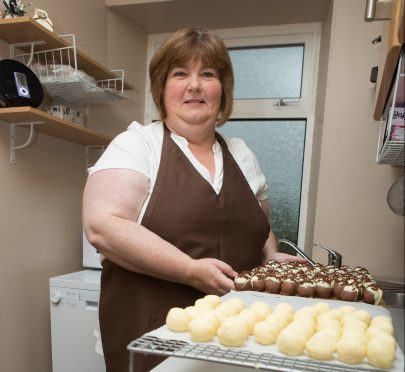 A chocolatier who started out giving her products away as gifts for friends and colleagues has almost quadrupled her weekly production less than a year after turning her hobby into a business.
Nellie Morrison began producing batches of 400 handmade Belgian chocolates and truffles every week in her home at Finsbay on the Isle of Harris last November.
Now, after taking business advice, investing in new equipment and securing three local stockists, she has stepped up production to 1,500-a-week.
Nellie, who combines running her Bays of Chocolate business with work as a nursery play leader, is now gearing up to meet festive season demand fro her sweet treats.
She said said: "I started making chocolates and truffles as gifts for friends and would take them into my colleagues at work to try out. The response was overwhelmingly positive so I made a few batches to sell locally and they quickly sold out. That made me think I could make a business out of my hobby.
"I knew nothing about setting up so went to Business Gateway Outer Hebrides for help. I attended a number of its start-up workshops and my adviser helped with my business plan, website and application for an interest free loan that meant I could buy a chocolate tempering machine.
"The machine has helped me keep up with demand and I'm overjoyed to have my chocolates stocked in three local shops. Over the next year my aim is to introduce more seasonal ranges and attract more stockists."
Bays of Chocolate products are stocked in Delights in Stornoway, An Clachan in Leverburgh, and Salar Smokehouse in South Uist and available online through the company's website. The company will shortly launch a new festive range of chocolate lollipops and bars.
Nellie taught herself to make Belgian chocolates and truffles through "trial and error." As she progressed she began experimenting with flavours, adding a range of natural options including strawberry and raspberry and even gin.
Business Gateway adviser, Fiona Chisholm, said: "Having never run a business before, Nellie turned to us to find out what she needed to do to get started.
"With the help of our workshops and one-to-one advice she was able to understand the ins and outs of running her own enterprise and secured funding to buy a piece of equipment that has helped her keep up with demand."