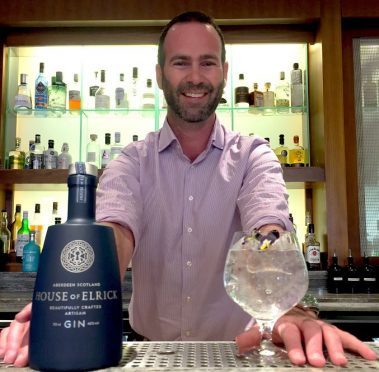 The owner of a fledgling gin company has been given planning permission to build a new distillery and bottling unit in Aberdeenshire.
Stuart Ingram, owner and founder of House of Elrick gin, submitted plans to redevelop the historic estate of Elrick House, near Newmachar, as a gin-making facility and destination restaurant back in 2015, which have already been given approval.
Now, the one-man-band has had the go-ahead from the Garioch Area Committee to start work on building a new distillation, bottling and storage shed – which will mean a huge jump in capacity for the small batch producer.
QUIZ: Name these nine gins… Just from looking at the bottles
House of Elrick gin is currently made in Hampshire and bottled in Edinburgh.
Mr Ingram last night welcomed the decision and said: "This is the next stepping stone in my journey and means I can think about taking on staff. At the moment I'm doing everything myself, but once the new facility is up and running I could have capacity for 10,000 to 15,000 bottles a week."
Unsure of what demand will be like, Mr Ingram is also planning to start producing vodka, whisky and another variety of gin.
The proposed restaurant would follow on from the distillery as would the development of six houses on the estate.
Mr Ingram said: "It is a case of getting the spirits set-up, then moving forward with the rest of the development."
Having recently struck a deal with Gordon & MacPhail to distribute House of Elrick gin, Mr Ingram's product is set to become more widely available across the north-east.
Despite the excitement surrounding the build, Mr Ingram admitted that it has not been an easy experience.
He said: "I am still bemused by the lack of support by authorities when someone puts it out there to try to build something better.
"And to create jobs for an area that has been so reliant on the oil industry, when the city has so much to offer.
"Elrick House has a rich history of being used by the local community when owned by the Burnett-Whyte family.
"I want to create this again, so that people can be proud of the community."
The Garioch Area Committee met yesterday, Fergus Hood was appointed chair and Dominic Lonchay was appointed as vice-chair.