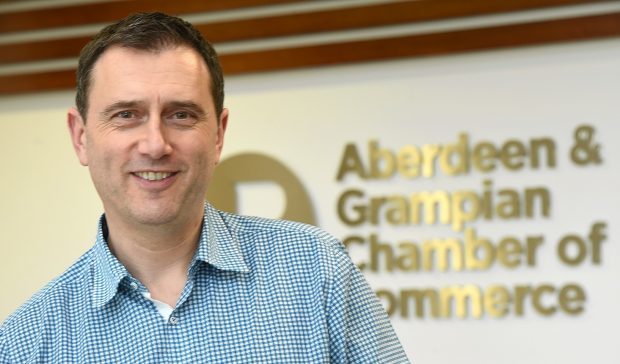 Business bosses are making a rallying cry to the north-east public to help shape the economic future of the region.
Aberdeen and Grampian Chamber of Commerce is looking for 50 members of the public as it puts together teams to work towards projects which could include a Capital of Culture bid and how to re-invent Union Street in the Granite City.
The aim is to help give the region a financial renaissance after the oil downturn.
As part of the project, the chamber wants to hear from anyone, regardless of sector or specialism, who is forward-thinking and wants to step up and play a part in discussing and working on future projects.
They will be handed projects and put into sub-groups with a mentor, and will have three months from September to research and work on their tasks. Their findings will be presented at the Regional Renaissance conference in December.
The call is the latest stage of the chamber's Vanguard series which launched in 2013 with the aim of capturing and progressing the key strategic issues for the North-east.
Russell Borthwick, chief executive of the chamber, said: "Vanguard has helped shape what the future of our area could look like and provided the opportunity for our business leaders to understand some of the leadership techniques we will need to employ if we are to be successful.
"This phase is about action. There is a cohesive plan in place but it will take a collective effort if we are to drive economic development and achieve our ambition of a prosperous future for our area.
"It isn't just the role of our local authorities and Opportunity North East; we all have a responsibility to play our part in making a difference and helping to achieve the things we need to make this an even better place to live, work, study, visit, invest and do business."
Other projects which could be in future plans include establishing food and drink tourism as a unique regional selling point and how best to galvanise a new generation of independent retailers at the heart of our town centres.
Mr Borthwick added: "We are beginning to demonstrate confidence and ambition, sending out the message that we are open for business.
"It is vital that this momentum is maintained and the pace increased but our new reality also needs new ways of thinking and acting. We want to engage not just existing business figures but our future leaders. "This is an excellent opportunity to identify emerging stars who believe in the future of our region and challenge them to tackle a series of live issues."
The closing date for applications is July 28. For more information visit www.agcc.co.uk/content/vanguard-legacy