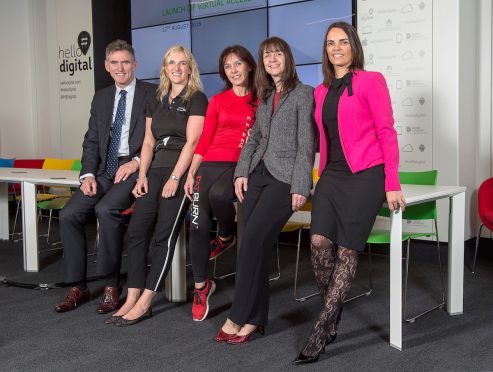 The UK's first "virtual" accelerator programme to help entrepreneurs commercialise their businesses was launched in Inverness yesterday.
Nearly 30 business people from around the Highlands and Islands have already signed up and the organisations behind the scheme hope a dozen more will join before the pilot programme gets under way next month.
Development agency Highlands and Islands Enterprise (HIE) has teamed up with the Entrepreneurial Spark to deliver the programme.
Entrepreneurial Spark's accelerator approach has proved successful in other parts of Scotland, the UK and overseas and to date has supported 660 companies.
Until now, the geography of the Highlands and Islands has prevented it being used in the area as the three-month programme involves participants working closely together in groups.
However, HIE say improvements in the region's digital connectivity and technology have now made it possible to deliver the programme in virtual form.
The pilot accelerator is primarily aimed at supporting pre-start and young business ventures, but is also open to more mature businesses looking to kick start growth.
Additional funding is being provided by Scottish Government, with law firm Harper Macleod and the Royal Bank of Scotland (RBS) providing specialist mentors.
RBS chief executive Ross McEwan joined representatives of HIE, Entrepreneurial Spark and Harper Macleod at yesterday's launch. Also present at HIE's An Lochran headquarters were previous accelerator participants and several who are undertaking the new programme.
Donna Chisholm, HIE regional head of sectors, innovation and programmes said: "Our economy is built upon ambitious entrepreneurs and a virtual accelerator will unlock more of this potential.
"We welcome the opportunity to work with Entrepreneurial Spark and our partners and contributors to help a new generation of entrepreneurs develop the skills and confidence to grow their businesses and create employment opportunities across the Highlands and Islands."
Participants will have access to a suite of 10 online modules on key business topics. Entrepreneurial Spark "enablers" will challenge the business leader to identify areas for improvement. They will also be connected with mentors who will provide specialist advice.
Groups of participants will collaborate on shared issues and challenges throughout the pilot through fortnightly remote fortnightly sessions with their enabler. The programme will be structured with three physical group meet-ups in Inverness over the three months.
Mr McEwan said: "Scotland is well known for its entrepreneurial spirit. This virtual hatchery means that even more start-ups will have access to the specialist knowledge they need to be successful no matter where they're based.
"We are committed to helping Scotland's people and economy flourish and our continuing work with Entrepreneurial Spark allows us to do that."
Among the entrepreneurs sharing her experience was Dianne Teo, who turned to Entrepreneurial Spark for help in 2014 with her then struggling fitness business, Fatburn Extreme.
The company is now operating in seven countries, as well as the UK, and about to expand into four more overseas markets.
Dianne, who is originally from Shetland and now lives in Glasgow, said:  "Sometimes when I wake up I still have pinch myself to believe how things have gone over the last couple of years.
"I knew my product, but I didn't know my business model.  That's where I learned so much from Entrepreneurial Spark."
To date the Entrepreneurial Spark accelerator approach has helped the companies it has worked with raise more than £45 million in investment, generate turnover of £85 million, and create more than 1,800 jobs.