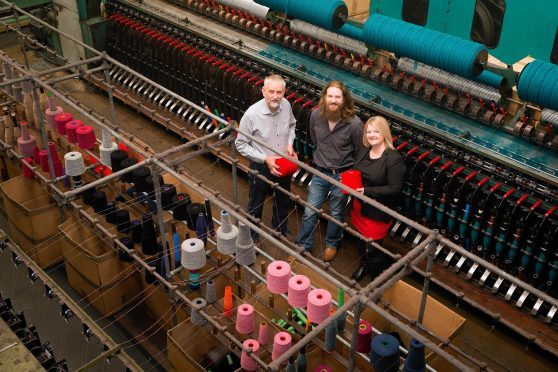 A Shetland wool company started five generations ago has been given a helping hand to grow international sales and create new jobs.
Jamieson's operates the islands' only commercial woollen mill. It currently employs 15 people in the small village of Sandness on the west side of the mainland.
The business recently secured a £33,708 grant from Highlands and Islands Enterprise (HIE) to boost international sales through a new marketing plan and "smart" product tracking at the factory.
Jamieson's plans are expected to create two new jobs over the next three years, while the anticipated export sales boost should deliver an increase in overall turnover.
The family owned firm – now run by Peter Jamieson and his son, Garry, buys Shetland wool and completes all stages of production at the mill before turning it into yarn in five different weights and more than 400 colours.
The company also manufactures a range of Shetland tweeds, rugs and blankets using weaving looms.
Garry Jamieson said: "We have undertaken a number of improvements to the factory this year to increase efficiency and this grant will help us to continue our growth in the hand-knitting market."
HIE account manager Kirsten Nicolson said: "We are very pleased to support this project as we recognise the potential for Jamieson's Spinning's products to reach further global markets which will lead to new jobs at Sandness.
"The company is a valuable employer in a rural area and has a key role to play in the cultural attraction of Shetland as a place to visit.
"By creating valuable employment opportunities, the company will also help strengthen resilience among local communities."
The business was started in the early 1890s by Robert Jamieson, who traded knitwear from the local crofters and sold it on.
Over the next century, different generations of the family brought their own skills and ideas to develop and progress the venture.
Bertie Jamieson expanded the enterprise in 1952 by opening a retail outlet in Lerwick – a move which coincided with the launch of the Jamieson Knitwear brand.
In 1981, the family opened Jamieson's Spinning – bringing all the stages of yarn production under one roof.