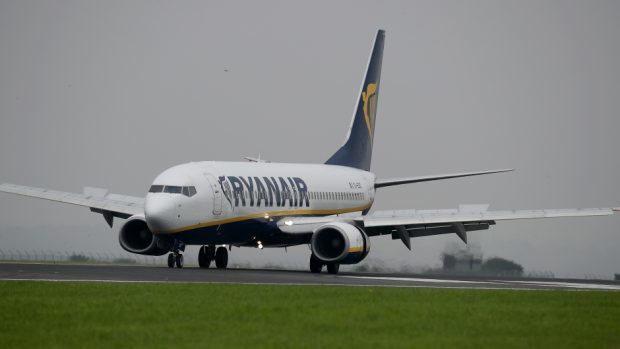 New flights from Aberdeen International Airport (ICA) face being grounded by Brexit because of strict rules governing airline ownership.
Ryanair recently started services from Aberdeen to holiday hotspots Malaga, Alicante and Faro after an absence of more than five years from the north-east gateway.
But questions have been raised about whether the Dublin-based carrier's ownership after Brexit will meet a requirement for airlines operating within the European Union to be majority-owned by EU nationals.
It is the latest twist in a growing furore over the impact of Brexit on aviation.
Industry chiefs have warned of a "cliff edge scenario" unless the UK Government quickly comes up with a "detailed and comprehensive" plan for maintaining air connections to the rest of the EU.
The potential for air travel disruption is "both real and substantial," one of them told an industry gathering in Paris recently.
Ryanair was 53.6%-owned by EU nationals last year, but many of these shareholders – about 20% of the total – were from the UK.
Based on these figures and stripping out the UK shareholdings, Ryanair would come up short of the EU requirement post Brexit.
A Ryanair spokesman said: "We have contingency plans and will adapt to changed circumstances in the best interests of our customers."
The part Qatari-owned International Airlines Group – the parent of British Airways, Iberia and Aer Lingus – said it already complied with "the relevant ownership and control regulations" and would continue to do so.
Other airlines serving EU destinations from Aberdeen and Inverness include bmi regional and Flybe, which both failed to respond to requests for comment.
Ryanair has warned the absence of a UK Government Brexit aviation plan means there is "significant uncertainty" about EU-bound flights from March 2019 onwards.
It aims to "pivot our growth away from the UK in 2017 and 2018" in order to capitalise on growth opportunities elsewhere in Europe.
Airport industry body ACI Europe renewed past warnings about Brexit earlier this week.
It also urged the UK Government to spell out its strategy for maintaining air connectivity in or out of the single European aviation market.
ACI Europe director-general Olivier Jankovec added: "The clock has been ticking since March (when Aticle 50 was triggered).
"We remain completely in the dark as to what will happen on April 1, 2019 (the day after Brexit) and we have no idea how long this uncertainty will persist.
"The fact that the UK has yet to define a clear and detailed position as to what it wants – not just in terms of its new relationship with the EU, but also about how to transition there – is not helping.
"This only results in precious time being lost and potentially increases the risk of a no deal scenario, which should be avoided at all cost as it could, ultimately, result in flights between the UK and the EU being suspended.
"In the absence of a deal on a transition or the future regime, aviation would simply fall into a legal vacuum which, if not addressed, could simply mean no flights."