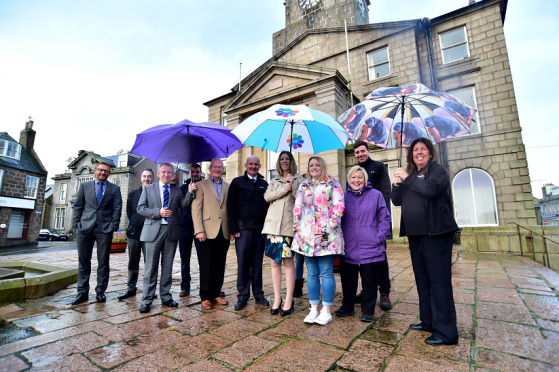 A host of new businesses have thrown their weight behind a £500,000 scheme to revamp the heart of the north-east's biggest town.
Rediscover Peterhead is a business improvement district (Bid) project, proposing an overhaul of the port's shopping district with CCTV protection and free wi-fi for visitors.
Other highlights of the organisation's ambitious business case include stricter controls on nuisance gulls, a shop loyalty scheme and a deep clean of the area around Drummers Corner and Marischal Street.
Later this month, all the firms based in the town centre will vote on whether or not to move forward with the plans.
Yesterday, the initiative was given another boost when a group of business leaders endorsed the proposal.
Specsavers, Websters Pharmacy, the Albert Hotel, The Flower Shop and Peterhead Port Authority unveiled their support for Rediscover Peterhead.
The different businesses emphasised that now is the time for local entrepreneurs and the community to work together to create a more attractive town, increase footfall and re-establish the Blue Toon as a desirable place to do business.
John Pascoe, vice-chairman of the Bid steering group, claimed the current estimated five-year levy of £550,000 could be doubled with pound-for-pound match funding during the project's lifespan.
He said: "Match funding opportunities could see a massive investment in Peterhead over the next five years and enable the town, not only to survive, but to thrive, grow and make its presence felt as the largest and most forward-thinking town in Aberdeenshire."
Rediscover Peterhead co-ordinator Iain Sutherland added: "Our town centre business community has really rallied behind the BID and the support has been strong across the board.
"We have 'yes' votes from both smaller and larger businesses with people seeing the benefit of the collective working, effort and activity the BID will bring to Peterhead."
He is covinced there is no realistic alternatives to delivering the level of investment offered by the Rediscover Peterhead project.
A spokesman for Peterhead Port Authority – which oversees Europe's largest white fish harbour – added: "We fully support the aims and objectives of Rediscover Peterhead and look forward to working with the BID team to improve the town centre for the benefit of the businesses, residents and visitors to the town."
The ballot for the Bid plan closes on September 28. All firms involved have already been sent voting papers.