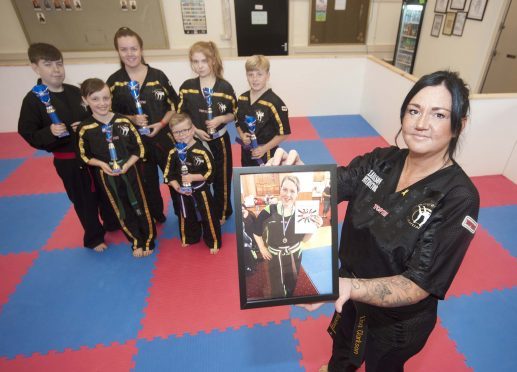 A Moray kickboxing squad has secured a massive haul of trophies in its first competition following the death of a club stalwart.
Members of Lossiemouth-based Empower Martial Arts held a poignant minute of silence to remember Dion Yates before taking to the mats in Arbroath.
Coach Lisa Clarkson believes the death of the inspirational 18-year-old, following her battle with cancer, motivated the youngsters to a phenomenal performance.
Miss Yates defied doctors' orders to continue training in the kickboxing ring – and had vowed to continue as a coach, even if she needed to have a leg amputated.
Now, six of her former teammates have secured nine trophies to secure places at a forthcoming Wuma (World United Martial Arts Federations) world championships.
Bethany Clarkson, Kyle Kelly, Faith Andrews, Corey Wilkie, Eilidh Regan and Riley McLean, who all aged between seven and 18, returned home from Angus with trophies.
Mrs Clarkson said: "Dion was training with me for more than two years – she was like a daughter to me. Everyone else was really close to her.
"All the guys said, in the minibus down, that they were fighting for Dion and they were going to fight their hearts out for her.
"That was the first time they had been out since she died and you could see how much it meant to them. I'm sure Dion was watching down."
A "tribute wall" has been put up at the club's Lossiemouth training centre to remember Dion.
Pictures of the fighter, who held a black belt, have been put up in the academy for the members to take strength from while they are on the mats.
Initial preparations are also being made for the first annual tournament to be held in her honour in January – teams from Wales and England have already confirmed they will attend while teams from Ireland may also join.
Proceeds from the event, which will be held in either Lossiemouth or Elgin, will be donated to a cause of Dion's family's choice.
Mrs Clarkson added: "She loved kickboxing. Even when she couldn't fight anymore she still put her kit on to be a part of it.
"I know what she was going through but she kept pushing every day to see everyone."