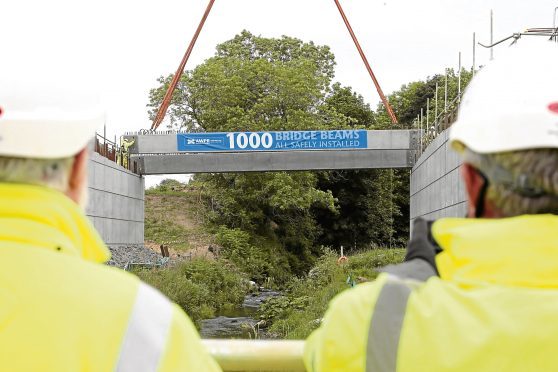 A string of top bosses at collapsed construction giant Carillion are to be questioned by MPs next month.
Parliament's Pensions and Business Committees yesterday launched a joint inquiry into the group's demise, which has cast doubt over the future of thousands of workers on jobs ranging from the construction of the Aberdeen Western Peripheral Route to school meals.
Carillion's liquidation left in its wake a £900million debt pile, a £590million pension deficit and hundreds of millions of pounds in unfinished public contracts.
The committees confirmed they will call several bosses as witnesses on February 6.
They include former chief executive Richard Howson, chairman Phillip Green, interim boss Keith Cochrane and ex-finance chiefs Richard Adam, Zafar Khan and Emma Mercer. It comes after anger over Mr Howson's bumper pay packet during and after his tenure, as well as that of Mr Khan and Mr Cochrane.
Mr Howson, who headed the company from 2012 until July 2017 and was an non-executive member of Wood, pocketed £1.5million in 2016. As part of his departure deal, Carillion had agreed to continue paying him a £660,000 salary and £28,000 in benefits until October 2018.
Last night accountants and business advisers French Duncan warned the impact of the liquidation of Carillion could cause a potential domino effect on Scottish businesses resulting in further insolvencies. The firm said it was concerned many companies which supplied services and goods to Carillion may not receive payments they were due causing financial difficulties and which could, in turn, result in some of the supplier businesses becoming insolvent.
Eileen Blackburn head of restructuring and debt advisory at French Duncan, said: "Often when a large firm goes into liquidation there is considerable fallout for the many smaller businesses supplying goods and services.
"Given the timescale for any resolution of the liquidation of Carillion is likely to be many months, a lot of these firms may find it difficult to survive."
The construction sector in Scotland has already been facing difficulties with the most recent figures from the Insolvency Service revealing the sector comprised 22.6% of all Scottish corporate failures in Q3 – an increase of 66.6% on the previous quarter. The latest Scottish GDP statistics also revealed the construction sector had fallen for the last seven quarters and was down by 2.9% in the latest quarter indicating that any further difficulties could hit the sector hard.