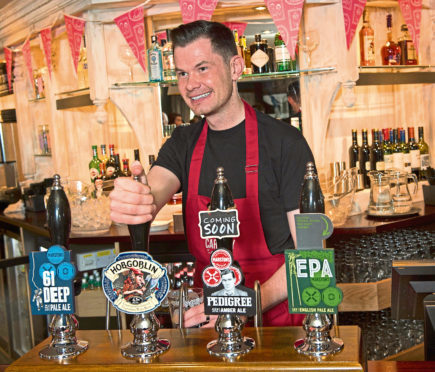 Pubs and breweries giant Marston's is hoping to score down south with a successful Fifa World Cup run this summer after the Beast from the East took a £3million bite from its profits.
Despite the impact of the winter weather, Ralph Findlay, chief executive of the group, which opened a bar, restaurant and lodge in Peterhead in 2017, followed by one in Inverness this year, said he was pleased with the growth in its revenue and underlying pre-tax profits in the six months to the end of March.
Mr Findlay said custom at Marston's 402 "destination and premium" pubs, which includes all its 19 operations in Scotland, aimed at the family dining market, had borne the brunt of the blizzards.
Sales at "drive-to" venues fell 1.8%, according to the half-year results released by the Woverhampton-based group yesterday, but rose 2.9% at its taverns.
Like-for-like sales were flat across the company's managed and franchised bars.
Write-downs from a property estate revaluation saw Marston's, which owns the Pitcher and Piano and Two For One chains, record pre-tax losses of £13.4m for the half year, compared to profits of £36.7m in the same period in 2016/17.
Overall revenue increased from £451.5m to £529m and underlying pre-tax profits rose 8% to £36.3m.
Mr Findlay said: "We are pleased to report another period of good growth in revenue and underlying profit before tax. Strong trading in brewing and taverns and leased pubs offsets the adverse impact of poor weather on 'drive-to' pubs in our destination estate, further validating the resilience of our model.
"We have made modest and prudent adjustments to our capital plans to reflect the current economic and consumer climate.
"However, Marston's is a balanced business and we are confident that the medium-term outlook for the eating-out and wet-led pub sectors remains good and that targeting an increased profitable share of a growing market through an unremitting focus on quality, service, standards and value for money remains key."
Marston's is due to open 15 pubs and bars and six lodges in the financial year. But Mr Findlay declined to comment on future expansion plans in Scotland.
He said the Harbour Spring, in Peterhead and Three Witches, in Inverness were "trading well".