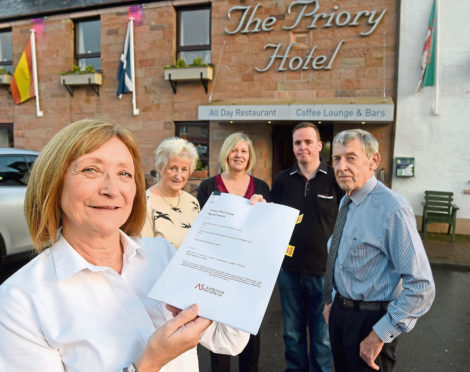 A well-known Highland hotel is being taken over by 46 of its employees as the man who opened it more than 40 years ago plans to bow out of the business.
Despite receiving a number of offers for The Priory, in Beauly, after putting it on the market, Stuart Hutton decided a staff takeover offered the best future for the establishment that has become a local institution in the Inverness-shire town since he launched it in 1972.
An employee ownership trust has been formed which will hold 72% of the shares in the 39-room hotel on behalf of the staff.
The bulk of the remaining shareholding will be retained by Mr Hutton's son Kenneth, who has become involved with the business in recent years, after a career as a golf professional.
Kenneth Hutton said: "My dad was at the stage where he was considering a step back from the business. He had put the hotel on the market recently and had a couple of trade sale offers. However, he didn't feel that the prospective buyers were the right fit for the hotel.
"A staff member had once mentioned employee ownership as a potential solution to this – it meant the business would be sold to those who know it best, and it wouldn't be taken over by a large chain.
"The option stuck with my dad and when he felt like he had the correct management team in place, the time was right to begin progressing the buyout."
Some of the management team will take positions on the board, with Kate Melens becoming general manager.
The transition to employee ownership is being supported by Co-operative Development Scotland (CDS) and development agency Highlands and Islands Enterprise (HIE), with the process managed by Ownership Associates.
Sarah Deas, a director at CDS, the arm of Scotland's enterprise agencies that promotes employee ownership, said: "Stuart has spent over half his life building a successful and much-loved local business.
"By handing control over to a team that he knows and trusts, the hotel's important standing in the community is protected, along with jobs and company ethos.
"We're thrilled to welcome The Priory Hotel to Scotland's growing EO community and wish the business every success."
Peter Allen, of HIE, said: "Transferring ownership to employees is a great option for business owners and we are delighted to help Stuart and Kenneth and the team through the process.
"Employee ownership is an effective way to drive business performance by boosting productivity, increasing employee engagement and keeping the company in the community."
Scotland has around 100 such companies and about 7,000 employee-owners with a combined turnover of about £940million.