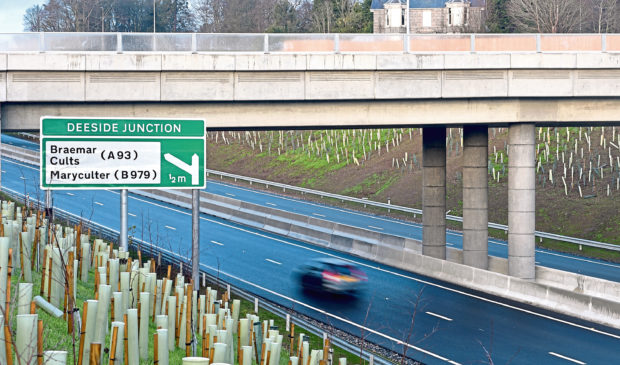 A court battle is looming between the builders of the city bypass and the taxpayer over a £250 million disagreement over spiralling costs.
Aberdeen Roads Limited (ARL), the consortium responsible for constructing the 36-mile AWPR, has said that the initial price of the £745 million project is no longer accurate.
Its members, Galliford Try and Balfour Beatty, have lodged a compensation claim stating the true bill for the work over 30 years has rocketed to more than £1 billion.
This difference is thought to be due to a string of delays with construction, as well as additional costs when the third member of ARL, Carillion, collapsed in January 2018 and the remaining two firms took on its commitments.
But roads sources have said the consortium placed its bid for the work "with its eyes open" and was aware of the potential pitfalls.
Transport Scotland has said there is not "sufficient evidence" that ARL's estimate is accurate.
Under the contract, the two sides have until December to strike a deal, otherwise legal proceedings will be issued to bring the matter to a close.
Legal bill for Aberdeen bypass hits £600,000 after series of disputes
Yesterday Galliford Try chief executive Graham Prothero told The Sunday Express the claim "would be in the hundreds of millions."
He added that they would rather negotiate with Transport Scotland, but "we're realists and it may have to go through the legal route".
Gordon MP Colin Clark said that roads bosses must accept that the bypass has come in over-budget.
"Transport Scotland cannot bury its head in the sand about the vast overspend on the AWPR," he said.
"It looks as if it will end up in the courts, whether it is the contractors' or Scottish taxpayers' responsibility."
He added: "When it goes wrong it is the taxpayer who pays for the mistakes."
A Transport Scotland spokesman said: "The cost of the project remains at £745 million.
"While it is not appropriate to comment in detail on the contractor's claim due to the commercially confidential nature of the discussions regarding it, we can confirm that, to date, Aberdeen Roads Limited has yet to provide sufficient evidence to substantiate its claim."