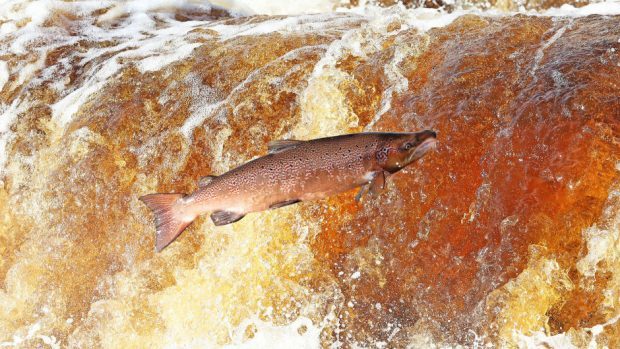 A new study has been launched to establish if there is a link between fish farming and dwindling numbers of wild Atlantic salmon.
The Atlantic Salmon Trust (AST) has identified a number of "likely suspects" ahead of its research into the "alarming" drop in numbers of the species in recent years.
Among them is "the impact of aquaculture through sea lice, pollution, disease and escapees."
Other issues the study will examine include predation by seals, cormorants and dolphins, incidental capture in fishing nets, over-fishing of young salmon's staple diet, climate change and moving sea currents.
The trust hopes the project will create the "most detailed picture yet" of the threats to wild salmon.
Launching the "suspects framework" study, AST executive director Sarah Bayley Slater said: "Because farmed salmon is now so commonplace in the supermarket, many people are unaware of the plight of the wild Atlantic salmon for which Scotland and Norway are so famous.
"This study will help us identify the key suspects causing these high mortality rates, which will help us to stabilise and over time, reverse the decline of this important species."
AST research director Professor Ken Whelan said scientists were increasingly concerned about the future of the fish.
He added: "Just 20 years ago, if you recorded 100 juvenile salmon leaving a UK river, more than 20 would return as an adult fish to spawn. In most UK rivers, fewer than five now return.
"We are determined to rescue this most valuable species and hope that the study we are announcing will lead to an international framework that will give us the information we need to achieve this."
Yesterday the industry body representing Scottish fish farming companies said it was working with the AST on the project.
Scott Landsburgh, chief executive of the Scottish Salmon Producers' Organisation, said: "The decline in salmon numbers has been recorded for many decades now, often before salmon farming even existed and in areas where there is no salmon farming at all.
"However, the Scottish salmon farming industry is pleased to be involved with the Atlantic Salmon Trust to offer whatever insight or support we can, but it is clear that there are many factors at play and research to establish accurate information rather than speculation will be useful."